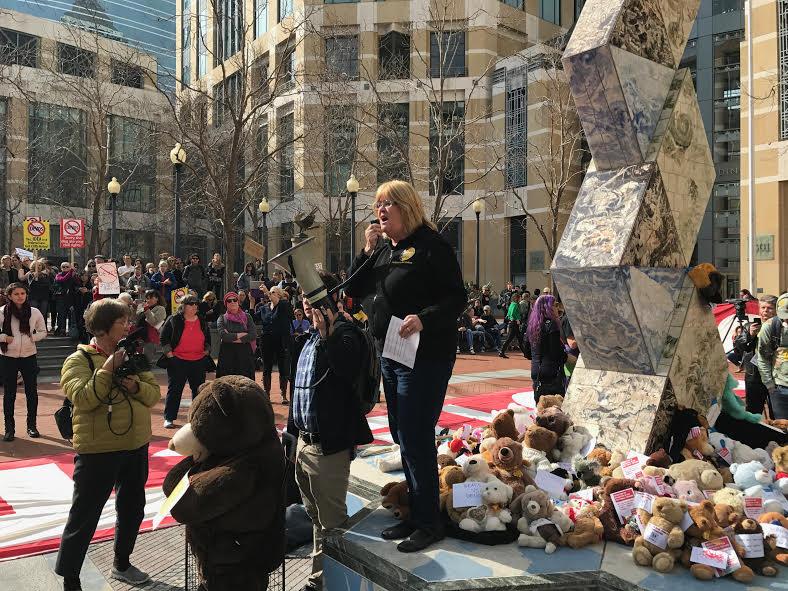 As the Health, Education, Labor, and Pensions Committee of the U.S. Senate voted to advance the nomination of Betsy DeVos as Secretary of Education to the full Senate along party lines this morning, hundreds of Bay Area parents, teachers, and students came together at a noon rally and press conference in front of the Federal Building in Oakland to denounce her nomination.
Demonstrators at the boisterous event—organized in just a few days—raised fundamental concerns about DeVos's lack of experience in public education, her support for corporate charters and school vouchers, and her track record dismantling public schools in her home state of Michigan. Speakers from both sides of the bay stressed the radical nature of her appointment, and urged public school families to contact California Senators Dianne Feinstein and Kamala Harris to vote no on DeVos when her nomination reaches the full Senate in February.
Berkeley Federation of Teachers president and CFT vice-president Cathy Campbell told the crowd of several hundred at noon on Tuesday, January 31 in front of the Federal Building in downtown Oakland that "education is the foundation of democracy."
Berkeley Federation of Teachers president and CFT Vice President Cathy Campbell told the crowd of several hundred at noon on Tuesday, January 31, in front of the Federal Building in downtown Oakland that "education is the foundation of democracy." Watch a two-minute video of Campbell's speech.
Shanthi Gonzales, a member of the Oakland Unified School District Board of Education, spoke passionately about the impact DeVos will have on students across the country. "All kids need and deserve a Secretary of Education who believes in public education and who knows what makes for a strong education system," said Shanti to loud applause. "Instead it looks like they will be getting someone who has spent their life undermining and profiteering from public schools. It's unacceptable."
That sentiment was echoed by Lita Blanc, president of the United Educators of San Francisco, who spoke of the need for all communities to protect and defend our public schools. "Our students need a champion of public education who will fight for the right of all students to have a quality education, regardless of their zip code," said Blanc, who noted that DeVos and the organizations that she supports have spent $33.5 million on school privatization. "Student success shouldn't be dictated by winning a charter school lottery or getting accepted into a private school."
Speakers at the event discussed in detail DeVos's track record in Michigan, where she and her family spent millions of dollars in support of school vouchers to divert funding from public to private schools, and in support of corporate charter schools which operate with little or no oversight or transparency.
The issues of charter school accountability have hit close to home in Oakland, as just last week another much-heralded charter school closed its doors. The closure of Castlemont Junior Academy has left the district scrambling to place the students in other Oakland public schools and ultimately could cost the cash-strapped district several hundred thousand dollars. Oakland Education Association President Trish Gorham warned that under DeVos, such calamities will be commonplace across the country.
"The disruptions that Betsy DeVos will bring upon our public schools cannot be overstated," said Gorham. "Parents and students in Oakland have already suffered from unchecked support of charter schools. What we need is a leader who is committed to protecting and supporting all of our students, not one who is ready to sell off our children's future to the highest bidder.
According to those present, one glaring example of Betsy DeVos's complete lack of qualifications for the job of Secretary of Education came at her U.S. Senate hearing on January 17, when she suggested that states should have the right to decide on the enforcement of the Individuals with Disabilities Education Act (IDEA), the federal civil rights law that requires public schools to provide free and appropriate education to all students with disabilities.
San Francisco parent Julia Martin, who has a son who is on the autism spectrum, addressed the dangers DeVos presents to families of children with disabilities. "As a parent of a student on the autism spectrum, we are dependent on the Individuals with Disabilities Education Act to ensure my son is supported and able to access all the benefits of school as his typically developing peers," said Martin, who sits on the SFUSD Special Education Community Advisory Committee.
"While there are private schools for students with disabilities there are few spots open, the cost is prohibitive, and it is up to the school to decide which students can stay and which have to leave. Public school is the only option for millions of vulnerable families and must be protected."
In a nod to comments DeVos made at her only Senate hearing on January 17, when she suggested that teachers should arm themselves to protect their classrooms from grizzly bears, 100 stuffed teddy bears were placed in front of the Federal Building as part of today's demonstration. According to event organizers, the line of bears was intended to highlight the absurdity of nominating someone to lead our nations' schools who is completely out of touch with public education.
According to several media reports, opposition to Betsy Devos is sweeping the nation with phone lines for every U.S. senator jammed with calls from concerned residents. With the confirmation vote in the full Senate as little as one week away, educators, parents, and concerned school supporters from across the country have vowed to keep up the pressure on all 100 senators.
"Betsy DeVos would be a disaster for our schools and our children," continues Lita Blanc. "We hope that the movement continues to grow to stop DeVos before she does irreparable harm to our public schools. If you haven't called your senators yet, now is the time!"
In California, Diane Feinstein and Kamala Harris have already pledged to vote against DeVos's confirmation.
The press conference and demonstration today was organized by Bay Resistance, a new network of almost 40 organizations formed to organize Bay Area communities to stand up to the Trump administration. Participating groups include those advocating for immigrant rights, Muslim Americans, environmental justice, labor, education, women's rights and more.

For more information, go to Bay Resistance. The protest is also part of a series of #ResistTrumpTuesdays actions in 300 cities across the country to oppose Trump's cabinet nominations.