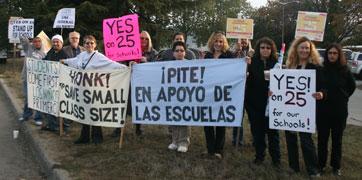 CFT members are heartened as their endorsed candidates for statewide office all came in winners on November 2, and Proposition 25 made it across the finish line with a substantial and game-changing victory for democracy in the state budget process.
The California Federation of Teachers was a key sponsor of Proposition 25. CFT President Marty Hittelman said, "The passage of Proposition 25 means that the Californian Legislature will not have an easy excuse for passing a late budget that harms California's future. By voting in favor of majority rule, California's voters have taken an important step forward in restoring democracy to the budget process. No longer will a few legislators hold up the entire budget process until special favors are granted in exchange for their votes."
But, he cautioned, "The majority budget vote will not solve all the problems we face in Sacramento. Even as priorities shift to address critical needs, it will not be enough to turn California around until added resources directed toward support of public education and other important social services are found."
The news about Prop 25 was tempered with the results on Propositions 24 and 26. 24's proponents (mainly CTA, but also CFT) failed to persuade the public, and this outcome leaves in place more than a billion dollars per year in state tax loopholes for a handful of large corporations.
Prop 26, sponsored by the Chamber of Commerce, raised the bar to pass state, as well as local, fees, from simple majority to two-thirds. This deprives legislators of an important means of raising revenues, since getting to two-thirds—the reason CFT sponsored Prop 25—is so difficult. Nonetheless, as Hittelman noted, "We have taken an historic first step toward a democratic process. California's future looks a little better after what happened today."
The victories by CFT-backed candidates in statewide races—especially in the gubernatorial and Superintendent of Public Instruction efforts—contrast with the conservative tide rolling across other parts of the nation.
Said Hittelman, "Educators are pleased that the voters of California elected Jerry Brown governor of California and rejected the attempt by Meg Whitman to buy the election. We know that Governor Brown will prioritize public education as well as the vital public services that Californians value. Brown understands that these public programs are the foundations of political democracy and contribute to a strong economy that produces living wage jobs. Voters saw through his opponent's unprecedented efforts to demonize teachers and other public employees. We are relieved that the majority of California voters rejected Whitman's arguments, designed to serve the narrow interests of multinational corporations.
CFT members can look forward to working with Jerry Brown, and with Tom Torlakson, a teacher who was elected Superintendent of Public Instruction. A strong advocate of increased state revenues to fund quality education, and opponent of punitive evaluation procedures for teachers based on single measure high stakes assessments, Torlakson will provide clarity and leadership in discussion of the way forward for public education.