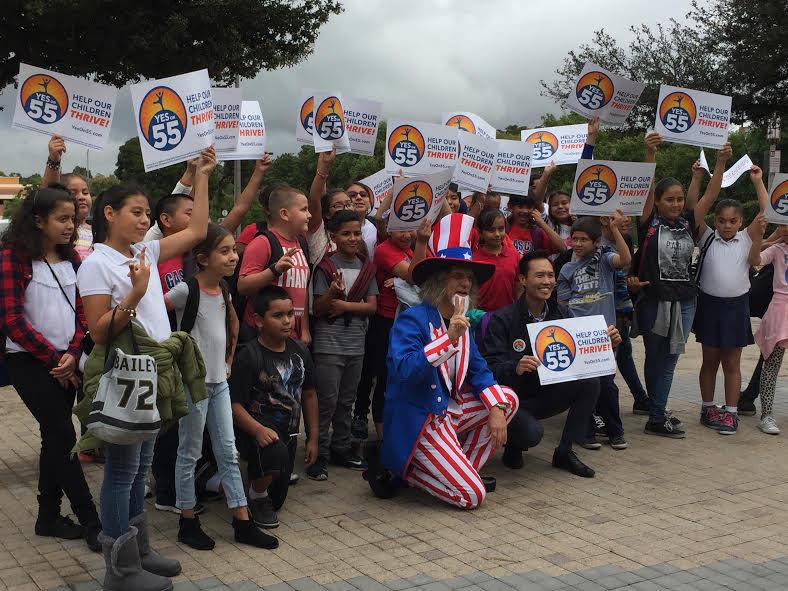 In Orange County today, Andrew Tonkovich was dressed up as Uncle Sam, complete with pasted-on white beard. He clutched a thick sheaf of Prop 55 flyers in his hand, just a few steps away from a table with more literature, buttons, posters, voter registration forms, and an urn of free coffee, which he explained was to "stimulate" conversation about Prop 55.
As the UC Irvine students passed by on the way to and from class, Tonkovich tirelessly threw out his hooks: "Are you registered to vote? Do you know about Proposition 55? Talk to Uncle Sam, who wants you to vote for Prop 55! Would you like some free coffee?"
The students who stopped and listened to the stimulating conversation learned that if Prop 55 did not pass, schools and colleges would lose billions of dollars in funding from the state of California. The students also found that their fees at UCI would likely go up.
Student fees at the University of California have held steady since 2012 when Prop 30, the temporary tax on the wealthiest Californians, was voted in by the electorate. Prop 55 would extend Prop 30 for 12 years. Although Prop 30 does not directly fund UC and CSU, by freeing up other monies in the state general fund it has kept fees from increasing in both higher education systems.
Tonkovich, a lecturer in writing and president of his UC-AFT local, was joined in his effort by the presidents of nearby Newport-Mesa Federation of Teachers (Britt Dowdy), and Coast Federation of Educators (Rob Schneiderman); the mayor of Garden Grove, Bao Nguyen, a UCI alum and former student of Tonkovich; Mary Ann Gaido, candidate for mayor of Irvine; the local UC-AFT staffer, Honora Keller; and a sprinkling of community volunteers.
The results after a few hours? Several students were newly registered to vote; hundreds went home with Prop 55 literature for bedtime reading; and a radio story.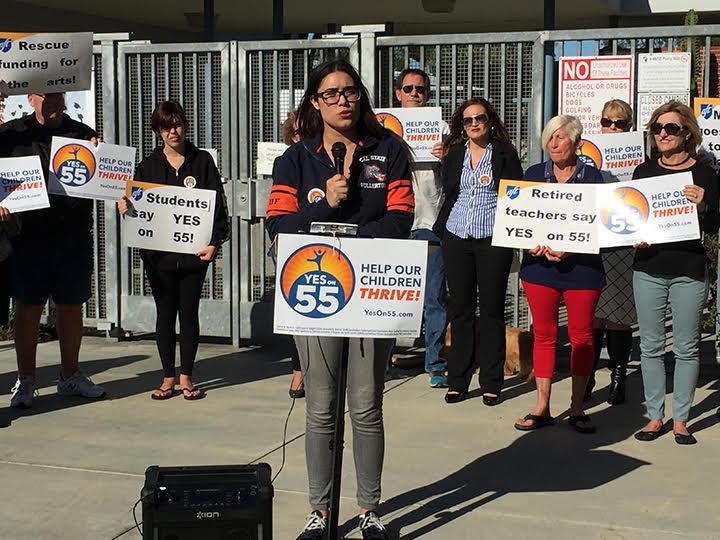 Press conference
Later that afternoon at Back Bay High School in Costa Mesa, Dowdy spoke at a press conference for Prop 55. He noted that, "In the Newport-Mesa Unified School District, approximately $4.2 million of the budget is attributed to funds related to Prop 55."
Appearing with Dowdy was Schneiderman, who said, "Without Prop 55, the Coast Community College District would lose about $20 million per year, which is 10% of our total budget."
Also at the press conference was Coast classified president Ann Nicholson, board members from each district, teachers from Santa Ana and Tustin, a PTA leader, and CSU student Emily Flores, whose father Joel teaches at the high school and pulled the event together. The press conference netted a small story in the local newspaper, the Daily Pilot.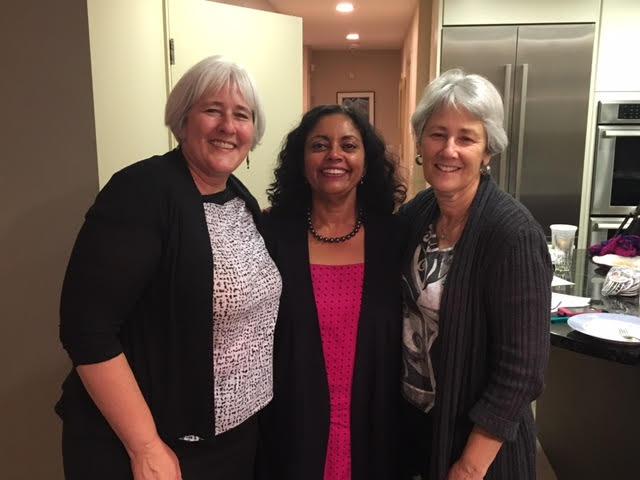 How to get involved
As we count the days down to November 8, activism has been welling up within CFT's locals across the state, and the accumulation of many individual efforts is having an impact. Members are staffing the phone banks, walking precincts, holding political conversations with family, friends, and neighbors, and participating in public events like those in Orange County to draw attention to Prop 55, CFT's top priority this election.