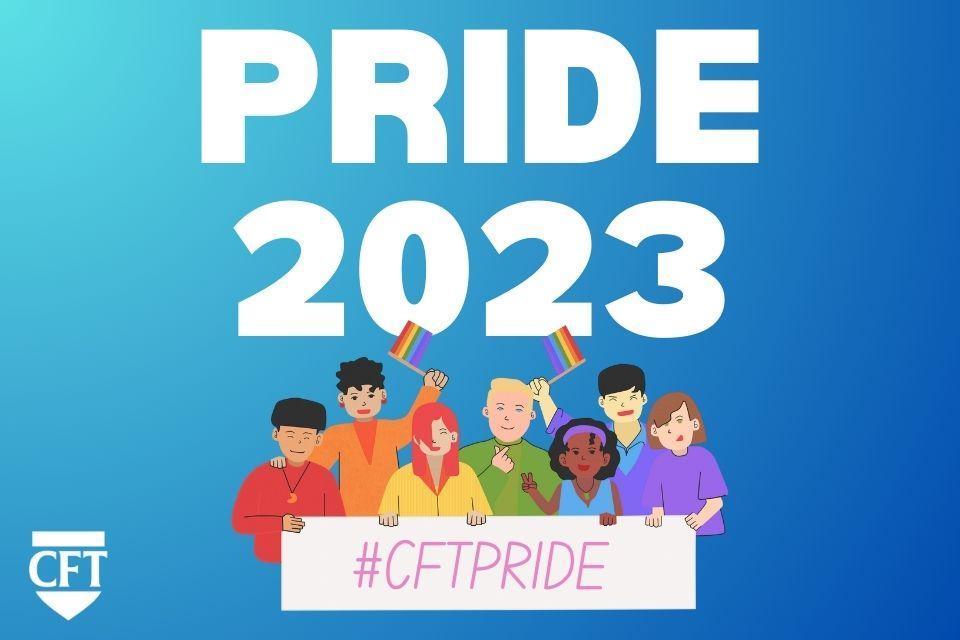 By Jeffery M. Freitas, CFT President
Celebrating LGBTQ+ Pride Month in schools is a powerful way to convey a message of love and acceptance to all students. However, recent events in California have demonstrated the disturbing actions of hate-filled extremists who have resorted to violence and intimidation, targeting students, teachers, classified staff, and education leaders. These attacks, occurring even at elementary schools and school board meetings, aim to instill fear in our educational institutions. As a gay man, I'm infuriated when individuals with narrow perspectives and prejudices attempt to strip away the freedoms of LGBTQ+ families, telling our children that there's something wrong with them or their parents simply because of who they are or who they love. As a teacher and president of California's Union of Educators and Classified Professionals, I implore parents, school staff, and students alike to unite against hate and bullying. Our LGBTQ+ children and families deserve a safe environment where they can grow up proudly and authentically.
Growing up in Los Banos, a small agricultural town in the Central Valley, I personally experienced the challenges of being gay. Then, attending West Point from 1988 to 1990, I also faced the very real threat of dishonorable discharge or even criminal penalties had I come out while still a cadet. During my formative years in high school and college, I couldn't envision a future where I could live as my authentic self because I had no literature, historical information, or role models from which to learn.
After leaving West Point, I realized my passion for helping all types of students, and I found my calling in the classroom, where I could foster a sense of belonging and community for the high schoolers I taught daily. Many of these students faced the same seemingly insurmountable obstacles I encountered as a student. Over the years since becoming a teacher in 1994, I have witnessed significant changes within the LGBTQ+ community. Gay-Straight Alliances have flourished on campuses, providing a supportive community for students who may not find acceptance at home. Schools have begun celebrating Pride Month and incorporating LGBTQ+ history into their curriculum and books in their libraries. Though the battle for full inclusion and acceptance is not yet won, we have come a long way in three decades.
Unfortunately, under the Trump presidency, we witnessed a regression in the improvements in rights we had made, even in progressive California. The bigots who were given a national platform in 2016 have only grown more emboldened. Just last summer, two high school students in Paso Robles stole a pride flag from a classroom, proceeded to destroy it, and live-streamed their actions on TikTok. We have seen school boards in the state prohibit educators from displaying pride flags in their classrooms and reject historically accurate and state-recommended curricula.
Instead of fostering hate and violence, our schools should be nurturing understanding, knowledge, and acceptance. We cannot idly stand by and allow our students to be forced back into the closet after the hardships endured by my generation and previous ones. A recent survey of members from CFT – A Union of Educators and Classified Professionals revealed that 12% of respondents identified as LGBTQ+, and 74% of those surveyed believed that protecting the LGBTQ+ community should be a high priority for our union.
We are doing this by actively supporting progressive school board candidates who will not be intimidated by hatred from bigots. We are standing with our LGBTQ+ students and LGBTQ+ parents to demand a safe educational environment. We are protecting and defending our school workers in the face of attacks, so they can continue their vital work of educating and supporting all students every day.
We cannot rely on others to fight for our students; it is the responsibility of each and every one of us who understands the importance of a just future to boldly and proudly speak out about our values – one of love and acceptance. And we must resist when small groups express bigotry and hatred.
This Pride Month, we will continue to celebrate who we are, both LGBTQ+ individuals and allies. Part of this celebration involves renewing our commitment to activism. We must stand up against homophobic and transphobic vitriol that infects our communities and work towards creating a safe and inclusive future that our students, workers, and families deserve.