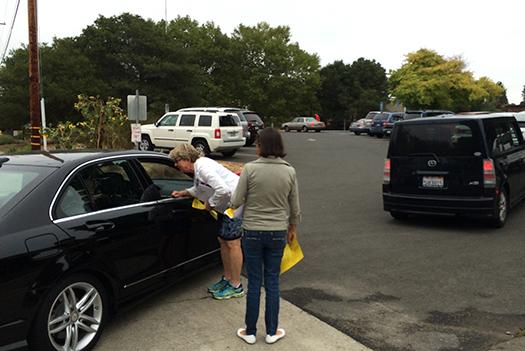 Today teachers across the Petaluma City Schools District leafleted parents before and after school, asking them to contact the school board in support of a decent contract settlement that can properly support a quality education. Petaluma teachers have not had a cost of living adjustment in seven years.
The Petaluma Federation of Teachers, AFT Local 1881, representing more than 425 teachers, counselors, psychologists, nurses and other certificated employees in the Petaluma City Schools District, has recently turned up the heat in support of contract negotiations.
Over the last few weeks of summer the union has brought scores of teachers to board meetings and demonstrations in the normally placid streets of this North Bay farming community, protesting district administration foot-dragging in collective bargaining.
"We're not asking for the moon, for more than what we feel the district can cover," said Sandra Larsen, chief negotiator for the teachers' union. The Petaluma Federation has proposed a 4 percent increase. The administration is offering 2.5 percent. The union contends that the administration is sitting on increased funding from the state due to Proposition 30, and it's time for the money to be used to provide long overdue raises and to decrease class sizes.
The union has also filed unfair labor practice charges with the Public Employment Relations Board over district management's failure to meet and bargain in good faith with union representatives. In an effort to provide some transparency to the bargaining process and pressure management to move, the union invited members to observe negotiations on July 7. Management negotiators walked out, and haven't returned to the table since.
According to local President Kim Sharp, "Our members have a right to attend bargaining sessions as observers while the PFT and the district negotiate with each team's respective bargaining representatives. The district keeps hanging their hat on Government Code that states it is illegal to allow members of the public to attend negotiations. To be clear, this was not the public participating in negotiations, but rather our members and employees of the Petaluma City Schools District, and they were exercising their right to view the negotiations process as they have done in the past without any objection from the district."
The flyer handed by the teachers to their students' parents points out that district Superintendent Steve Bolman is one of the highest paid administrators in the county, while average teacher salaries in Petaluma are falling in comparison with surrounding districts.