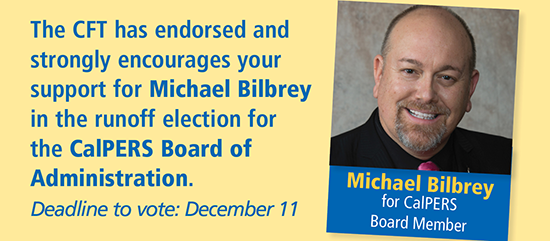 The CFT has endorsed and strongly encourages your support for Michael Bilbrey in the runoff election for the CalPERS Board of Administration.
As a long-time labor leader, Bilbrey has demonstrated his commitment over many years to protecting defined benefit pension plans and ensuring affordable healthcare.
Michael Bilbrey will make sure that CalPERS is there to provide the retirement security you've earned and are counting on.
Your union recommends Michael Bilbrey: At-Large Position B, CalPERS Board
Your ballot has been mailed
Check your mailbox! CalPERS has mailed ballot packages for the runoff election.
Vote online, by phone, or mail
To vote online or by phone you will need your Personal Identification Number (PIN) which is in the ballot package you received in the mail.
To vote by phone, call (800) 270-7146.
Or return your ballot by mail.
Deadline to vote
Monday, December 11 is the last day to vote
Need assistance?
If you need a new ballot or help with voting, call the CalPERS Election Center at (888) 492-4763.
Paid for by the California Federation of Teachers COPE Prop/Ballot Committee. This advertisement was not authorized or paid for by a candidate for this office or a committee controlled by a candidate for this office.