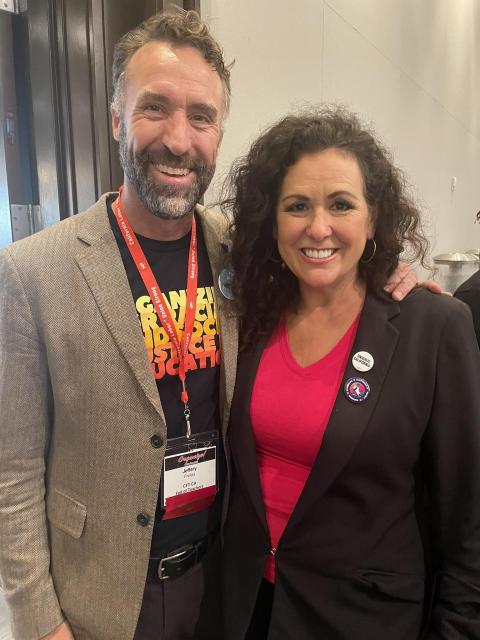 This week at the convention of the California Labor Federation, history was made when Lorena Gonzalez was sworn in to lead the 2.1 million-member statewide umbrella organization of the AFL-CIO.
Gonzalez, formerly the secretary-treasurer of the San Diego-Imperial Counties Labor Council before serving nine years in the California Assembly, will become the first woman and person of color to lead the statewide federation.
In assuming the position, Gonzalez gave a moving call to action, unveiling a new statewide organizing drive called Unionize California, and announcing that the United Farmworkers is formally joining the Labor Federation.
"The most direct way we can truly improve the lives of Californians is to empower them at work," Gonzalez said in a statement. "This Labor Movement is going to be laser-focused on organizing workers, fighting for their rights to join a union, and kicking ass until they have the full protection of a union contract."
CFT President Jeff Freitas wrote that it was an honor and a privilege to welcome Lorena to her new leadership position, while thanking retiring Executive Secretary Treasurer Art Pulaski for his decades of leadership fighting for working people in California.
Worker organizing took center stage at the convention, and CFT leaders and members were right in the mix.
To kickoff the proceedings, Arden Stern from CFT's newest local union — the ArtCenter Faculty Federation — joined a panel discussion about the wave of union organizing sweeping the state and the nation. Stern joined Chris Smalls, president of the Amazon Union, Starbucks worker organizers, and others. Smalls is the charismatic leader of the first successful union drive of an Amazon distribution center, who has been traveling the nation, joining workers across sectors to encourage more organizing.
During the panel panel discussion, Stern told how faculty at the ArtCenter College of Design successfully formed a union almost entirely over Zoom. In her remarks she said, "This is our moment! It's inspiring to see so many people here, ready to take action for our rights as workers!"
Finally, during the convention CFT delegates succeeded in getting the California Labor Federation to pass two CFT-sponsored resolutions, including one to oppose new, independent charter schools and one in support of the federal Pro Act.
CFT President Freitas is a vice president of the California Labor Federation. He and Secretary Treasurer Luukia Smith were the elected delegates representing the CFT.