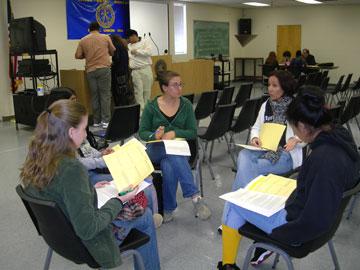 The CFT's Sandra Weese lends her time and bargaining expertise to the December 5, 2006, Collective Bargaining Institute with Berkeley High School students, seen here caucusing before going back into "bargaining" in a role play developed by Los Angeles teacher Linda Tubach.
The all-day event was held with 30 students at the Sheet Metal Workers Local 104 training facility in San Leandro, with the support of the CFT, Central Labor Council of Alameda County, Alameda County Superintendent of Public Instruction Sheila Jordan, and a dozen coaches drawn from various unions.
In the morning, when students arrive, they know little or nothing about unions and collective bargaining. At the end of the day, they can tell you what a union is — and they like the idea. Based on the popular education techniques of Paolo Freire, the Collective Bargaining Education Project provides a range of labor history and contemporary union organizing and collective bargaining role plays for the high school classroom. CBEP can also organize a one-day Institute for up to 100 students, as well as teacher in-services.
The Collective Bargaining Education Project was founded in 1997 to promote education about how labor and management resolve workplace conflicts through the methods developed in collective bargaining negotiations. Beginning as a one-day annual event in Los Angeles, these collective bargaining institutes evolved into a full-time, year round position in the Los Angeles Unified School District.
Today, the CBEP has created one-day collective bargaining workshops for more than a dozen school districts around the country. It also brings bargaining, organizing, and labor history role plays into high school classrooms throughout Los Angeles Unified. These lesson plans are available in a binder with video resources from the CBEP.
For more information, go to the Collective Bargaining Education Project page on the LAUSD website, or phone project director Linda Tubach at 626-233-2284.