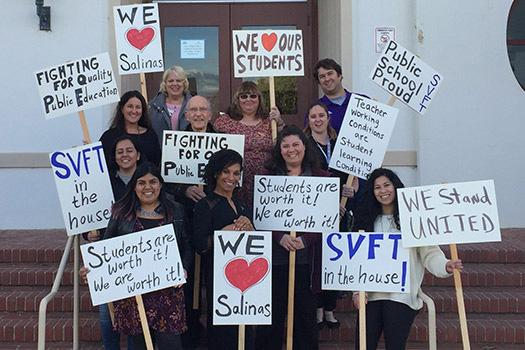 This morning in a 5-4 ruling the U.S. Supreme Court decided in favor of Mark Janus in the Janus v. AFSCME Council 31 case. The ruling overturns decades of precedent and eliminates the ability of public sector unions to collect fair share, or agency fees.
While promoted as a case about the First Amendment rights of employees, the Janus case is a straightforward attempt by deep-pocketed interests, with the compliance of the Supreme Court, to limit the voice of educators and other public sector workers, with the ultimate goal of threatening our ability to advocate for the pay, benefits, and working conditions that we need to get our important work done.
By seeking to eliminate our ability to advocate for our jobs and our institutions, the case is also a direct threat to our public education system and the students and families that we serve. The decision also hurts the ability of the entire labor movement to defend vital social services such as Social Security and Medicare.
We will not let the Janus decision silence our voice
As a union of educators and dedicated workers at public schools and colleges, we know that sticking together is our best bet to ensure we have the pay and benefits that we need to serve our students well. We also know that sticking together is our best bet to win the policies and funding that truly support our public schools, colleges, students, and their families.
CFT members are are fiercely dedicated to our students and their families because we believe in the power and promise of public education to transform lives and to lift up communities. Regardless of what those behind the Janus case hope to accomplish, we know that our profession, our schools, our colleges, and students are worth fighting for.
#StrongerTogether