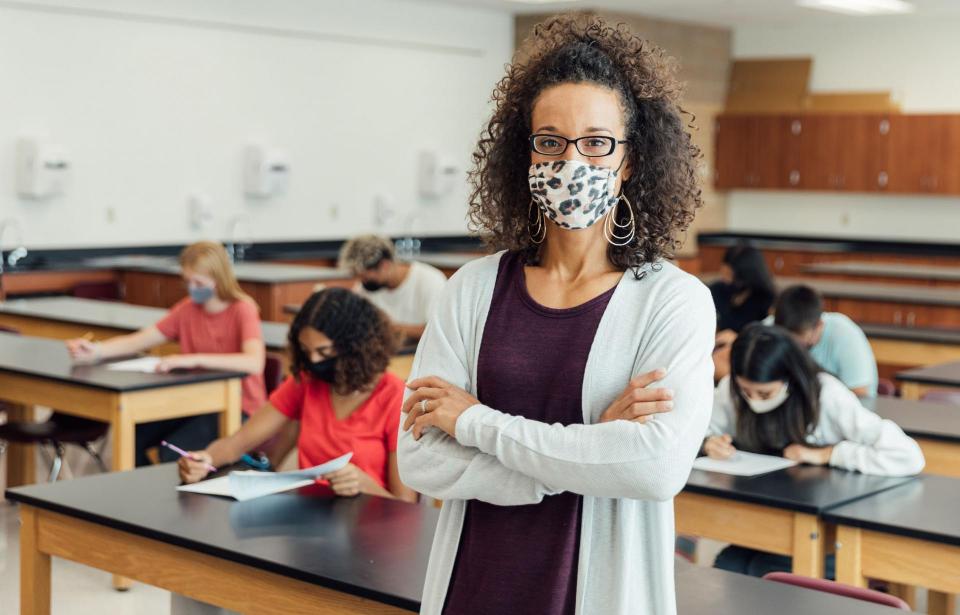 Update: Governor Newsom announced that all California educators must show proof of vaccination or submit to regular testing beginning October 15, 2021. CFT supports the new "vaccinate or test" policy to keep schools and communities safe. Read our full statement here.
State and federal agencies have updated their COVID guidance in light of the surge in the delta variant, including the July 28 guidance from the California Department of Public Health regarding statewide mask guidance for all Californians.
TK-12 schools guidance: On Monday, August 2, the CDPH updated its guidance for schools. California's guidance is closely aligned to recommendations in the federal guidance from the Centers for Disease Control and Prevention. Universal masking for all students and staff, regardless of vaccination status, is required in California and is the best safety measure to protect students who are not yet eligible for a vaccination. For anyone 12 years or older, vaccination is undeniably the best way to protect oneself from the virus.
Higher education guidance: California retired the old public health guidance and there is no new one at this time. On July 23, the CDC updated its guidance for higher education institutions. In California, the statewide mask guidance is in effect and requires unvaccinated people to wear masks in indoor spaces; several local health jurisdictions have more strict rules where universal masking is required.
---
---
Vaccine (and testing) mandates: Vaccination mandates are being adopted across the country and in many parts of California. All state workers and several cities have already announced mandates. The community colleges are being strongly urged to adopt them, while UC and CSU already have vaccination requirements for all students and staff. At least one K-12 district announced a vaccination mandate for staff and a couple of community colleges have adopted them. In some places, frequent testing is required for anyone who cannot show proof of vaccination.
If state or federal workers are not vaccinated, California and the federal government is requiring employees to be tested at least weekly and in some cases twice weekly. This intensity of regular testing is being adopted as the next best strategy for people who cannot or will not be vaccinated. Schools and colleges will be better prepared to prevent and contain outbreaks if there is a rigorous and mandatory testing program in place. There are millions of dollars available to cover the costs for testing.
Even with new and disconcerting data shared by the CDC recently, and stories of breakthrough cases, studies and empirical data continue to confirm that vaccination saves lives and the vaccines are extremely effective in preventing hospitalization and severe COVID. Less than 0.004% of fully vaccinated people have had a breakthrough case leading to hospitalization and of the states reporting on breakthrough case data (about half of states), less than 1% of the cases are among fully vaccinated individuals. Until vaccinations are approved for younger children, universal masking plus high vaccination rates among the eligible are essential to keeping our child care, schools, colleges, and universities open for students and safe for staff and students alike.
New CDC guidelines for the fully vaccinated
On July 26, the CDC announced an update to its public health guidance and recommendations. The focus was to provide new recommendations for fully vaccinated people.
The CDC update is a response to new evidence about the more highly contagious delta variant of COVID-19, which is now responsible for the majority of new infections in the United States. Preliminary studies are showing evidence that fully vaccinated people who do become infected with the delta variant can still be infectious and spread the virus to others.
In response to the CDC announcement, AFT President Randi Weingarten said, "When science and evidence speak, we listen. The CDC has issued this indoor mask guidance as a result of the troubling surge of COVID-19 delta variant cases in unvaccinated communities and evidence of transmissibility of the delta variant, even by vaccinated people. Thankfully, the research still demonstrates vaccine effectiveness against serious illness, and it remains the single most important tool to prevent severe COVID-19 cases."
The evidence about vaccine efficacy for protecting people against symptomatic and severe COVID-19 has not changed: Fully vaccinated people are less likely to become infected and, if infected, to develop symptoms of COVID-19. They are at substantially reduced risk of severe illness and death from COVID-19 compared with unvaccinated people.
Breakthrough cases where fully vaccinated people contract the virus are still very rare. Some public health experts have begun referring to COVID-19 as a "pandemic of the unvaccinated." Therefore the new guidance continues to strongly urge all unvaccinated and eligible individuals to get vaccinated as soon as possible.
The CDC update does the following:
Adds a recommendation for fully vaccinated people to wear a mask in public indoor settings in areas of substantial or high transmission.
Adds information that fully vaccinated people might choose to wear a mask regardless of the level of transmission, particularly if they are immunocompromised or at increased risk for severe disease from COVID-19, or if they have someone in their household who is immunocompromised, at increased risk of severe disease, or not fully vaccinated.
Adds a recommendation for fully vaccinated people who have a known exposure to someone with suspected or confirmed COVID-19 to be tested 3-5 days after exposure, and to wear a mask in public indoor settings for 14 days or until they receive a negative test result.
Updates CDC guidance for K-12 schools by recommending universal indoor masking for all teachers, staff, students, and visitors to schools, regardless of vaccination status.
"Wearing masks inside schools regardless of vaccine status is required to deal with the changing realities of virus transmission," Weingarten added. "It is a necessary precaution until children under 12 can receive a COVID-19 vaccination and more Americans 12 and older get vaccinated."
Weingarten added, "We continue to be concerned about this variant, but our No. 1 priority remains a safe in-person school year in schools that can stay open. Given the new evidence, that means requiring everyone in school buildings to wear masks, and that's what we'll work with our school communities to do."
In California, the guidance for K-12 schools already included a universal indoor masking requirement, regardless of vaccination status, so the CDC update just aligns the CDPH guidance and CDC recommendation. Several counties have moved in recent days to require masks indoors, for all, regardless of vaccination status.
California's update does the following:
Adds recommendation for universal masking indoors statewide — including for vaccinated individuals.
Adds adult and senior care facilities to the settings where all individuals must wear masks indoors
References new requirements for unvaccinated workers, including regular testing for COVID-19 for workers in healthcare and high-risk congregate settings. This is spelled out in a July 26 public health order.
Anticipates some local health jurisdictions will issue more restrictive guidance.
The CDC's indoor masking recommendation applies to areas where there is "substantial" or "high" community transmission. These categories are based on the number of new cases in the past seven days, per 100,000 population. County-level data are available from the CDC. As of July 28, most California counties (45 of 58, accounting for 96% of the population) are experiencing substantial or high transmission.
High Transmission: 100 or more new cases per 100,000 in past seven days or 10% or higher positive test rate.
Substantial Transmission: 50-99 new cases per 100,000 in past seven days or 8–9.9% positive test rate.

By Aimee Shreck, CFT Research Director