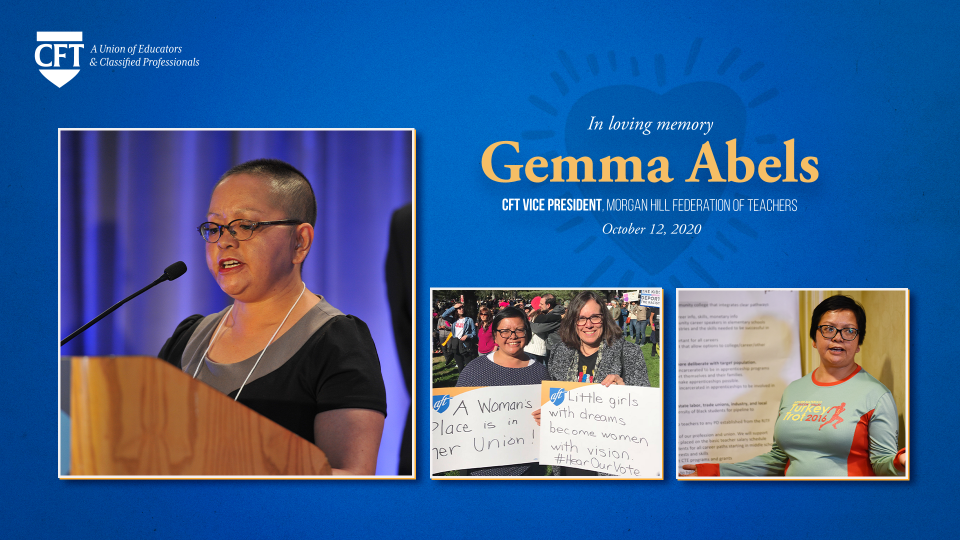 The CFT mourns the passing of three vice presidents in recent months.
Gemma Abels was an English teacher, former president of the Morgan Hill Federation of Teachers, and a CFT Vice President. She passed away last fall following a five-year battle with ovarian cancer.
Gemma represented the best of what a union leader can be—a fierce fighter for her members, her students, and her community. She helped lead the local 's effort to preserve neighborhood schools in a successful campaign against the encroachment of Rocketship charter schools.
The message was clear—"Morgan Hill public schools were not failing and were not for sale." Gemma and union leaders joined with administrators to talk with parents, community members, and elected officials.
For her extraordinary efforts, Gemma was honored with a Women in Education Award in 2016 at CFT Convention. Her impassioned and emotional speech brought the union hall to tears. She recounted her story of putting off a visit to the doctor, her cancer diagnosis, and implored women in the audience to get regular check-ups for early detection.
Gemma was an educator and union leader whose keen mind was matched only by her humility, grace and compassion.

Dean Murakami was a psychology professor, long-time president of the Los Rios College Federation of Teachers, and a long-serving CFT Vice President.
Also an accomplished scientist, Dean served as scientific director of a NASA space shuttle mission and published over 35 scientific articles. As a member of the higher education community, he was generous with his time and energy, a role model and mentor to many.
Dean chaired the CFT Civil, Human and Women's Rights Committee and brought hundreds of critical social issues to the attention of our union. He penned, introduced, and helped pass countless resolutions on issues ranging from the internment of Japanese Americans to the Poor People's Campaign.
During the recession of 2007, Dean envisioned a march up the Central Valley to call out the devastating cuts being made to public education. Dean was a driving force in what became CFT's epic March for California's Future, traversing 365 miles over 48 days, rallying from town to town, and enlisting thousands of union members and working day Californians in our union's effort.

Don Maxwell was an art teacher and artist, president of the Greater Santa Cruz Federation of Teachers, and a long-serving CFT Vice President. Don was a passionate and consistent voice for the union's role in promoting high standards in the classroom and in the workplace.
However, Don may be remembered most as the driving force behind the CFT scholarship program. In 1997, Don introduced a resolution before CFT Convention delegates to establish a scholarship that would support the higher education goals of our members' children.
Don proposed naming the program in honor of the leader who inspired his union organizing days—and those of many more early union leaders—former CFT President Raoul Teilhet.
Don went on to serve as chair of the scholarship committee and shepherded the nascent program through its first decade. Now, 24 years later, our proud Raoul Teilhet Scholarship Program has awarded more than $1.9 million dollars in scholarships to 728 deserving dependents of CFT members.