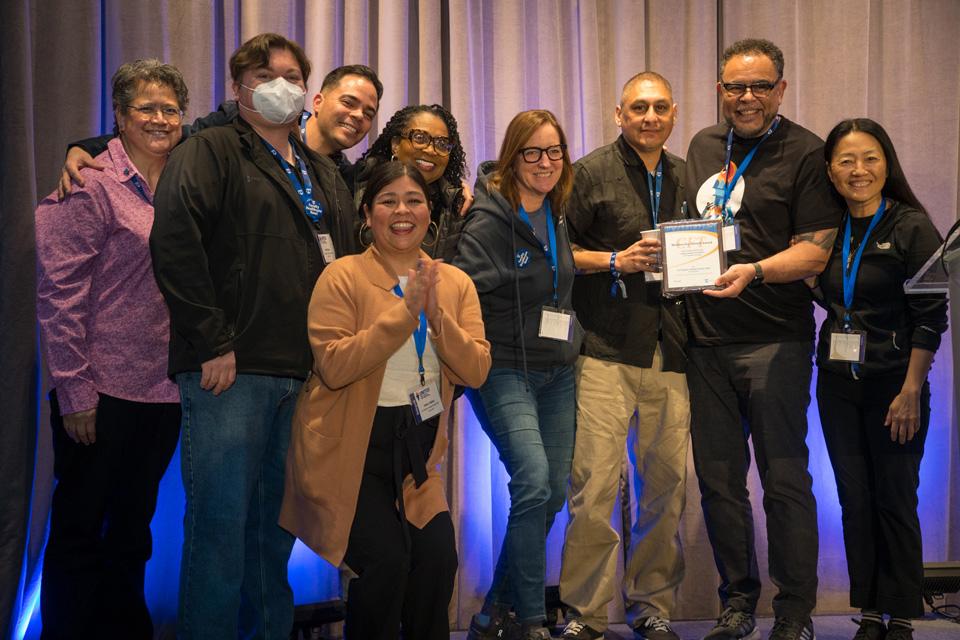 After four years of not meeting in person, CFT members met in San Francisco this past weekend at our Biennial Convention, under the theme United for Justice, United for Education.
Delegates participated in vigorous debate about key resolutions, attended informative workshops, and heard from inspiring speakers, including Keith Boykin, Jane Elliott, and Randi Weingarten. We recognized newly organized locals and celebrated our members who were elected to public office in 2022.
On Saturday we rallied in Union Square to support UESF and AFT 2121, and their continued campaigns to make sure all San Francisco students and communities have the schools they deserve. Rally goers heard from UESF President Cassondra Curiel, AFT 2121 President Mary Bravewoman, City College of San Francisco Trustee Susan Solomon and other CFT leaders.
On Saturday evening we held an awards dinner to honor local and state leaders who have gone above and beyond. The Women in Education Award was presented to Palomar Faculty Federation leaders Barbara Baer and Jenny Fererro; Belinda Lum of Los Rios Federation of Teachers received the inaugural Dean Murakami Award, recognizing a member or local's racial, social, and climate justice work; and CFT's outgoing Secretary Treasurer Luukia Smith received CFT's highest honor, the Ben Rust Award.
The CFT Convention is our union's highest democratic body, and it is where we elect officers. In addition to electing a full slate of Executive Council members, delegates re-elected Jeff Freitas as CFT President. Delegates also elected Lacy Barnes of the State Center Federation of Teachers as the new Secretary Treasurer and UTLA's Juan Ramirez as the new Executive Vice President. Jim Mahler and Carl Williams were re-elected as President of the Community College Council and President of the Council of Classified Employees, respectively, with Dennis Kelly elected President of the Council of Retired Members, and Steve McDougall President of the Early Childhood/K-12 Council.
Remarking upon the newly elected leadership of the CFT, Freitas outlined his vision for our work going forward: "As public education in the U.S. faces unprecedented attacks, it is more important than ever for our educators and classified professionals to come together, united in our commitment to our students and our communities."
Check out these great photos from the convention, and look for a special edition of CFT United soon for more in depth coverage.