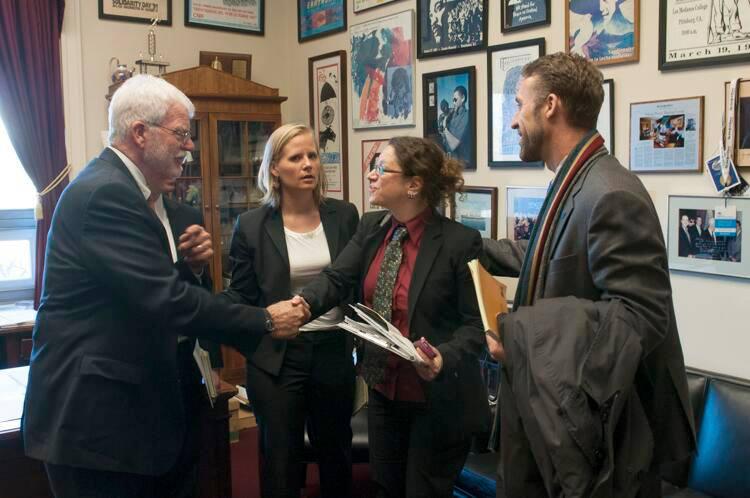 December 13, 2013—CFT Secretary Treasurer Jeff Freitas (right) and AFT 2121 President Alisa Messer (shaking hands with Congressman George Miller) met with Miller while in Washington D.C. to attend the hearing at which the Accrediting Commission for Community and Junior Colleges (ACCJC) was given a year to come into compliance with 15 standards it has violated.
Messer and CFT President Joshua Pechthalt testified in the hearing, along with a number of City College of San Francisco faculty and students, that the ACCJC should no longer be allowed to oversee accreditation in California.
Pechthalt's testimony at the Washington D.C. hearing follows:
Thank you for the opportunity to say a few words on behalf of the California Federation of Teachers. We represent 25,000 community college faculty in 30 districts.
Your staff identifies 15 areas in which the ACCJC fails to meet the secretary's criteria for recognition. Yet, the report concludes that these problems, many serious, do not rise to the level of denying ACCJC reaccreditation.
We disagree. The ACCJC has recklessly and needlessly put at risk the existence of City College of San Francisco. Tens of thousands of students have already dropped out, most with nowhere to go for their education. But this is only the most obvious example of the agency harming the ability of California community colleges to serve their 2 million students while narrowing access to higher education for students who need it the most.
The CFT has heard from our members for years about the wrongheaded, destructive, expensive and often vindictive actions of the ACCJC, and we have documented numerous abuses of its public trust in our third-party complaint.
We understand that NACIQI, like many government regulatory bodies, is understaffed for its workload. But if you do not act now to withdraw recognition of the ACCJC it would be a terrible failure of regulatory responsibility.
Allow me a parallel. If the EPA doesn't stop a corporation that systematically dumps toxic chemicals near a school, or if OSHA simply issues a slap on the wrist to a construction company whose dangerous building practices causes a school building to collapse, these would be clear failures in regulatory responsibility.
The results of ACCJC actions may not seem as dramatic. But just as colorless chemicals in a river, or building faults, might initially be invisible, the ACCJC's actions occurred out of the public eye. Nonetheless, because of those actions, tens of thousands of students have lost access to affordable education. Great harm has been done, and if the ACCJC is reauthorized, great harm will continue to be done.
The ACCJC denies it has problems, obstructs efforts to fix them, and misrepresents its actions continuously.
Two months after the Department of Education's August 13 letter warned that ACCJC failed to send out balanced site visit teams, the ACCJC, in a new violation, misrepresented three non-academic administrators on a team as academic personnel. Instead of five and five, the numbers were two academics and eight administrators.
The ACCJC is not capable of changing its behavior, because its leaders believe they are doing nothing wrong.
If the Department of Education does not delist the ACCJC, the CFT will pursue our lawsuit. We do not have the resources of the federal government, and it is a heavy burden for us. But if it is the only way to restore accreditation, and regain access to education for City College's students, we will shoulder that burden.
We ask that the Department of Education do its job. We ask you to delist the ACCJC as an authorized accrediting agency before it can do more harm.