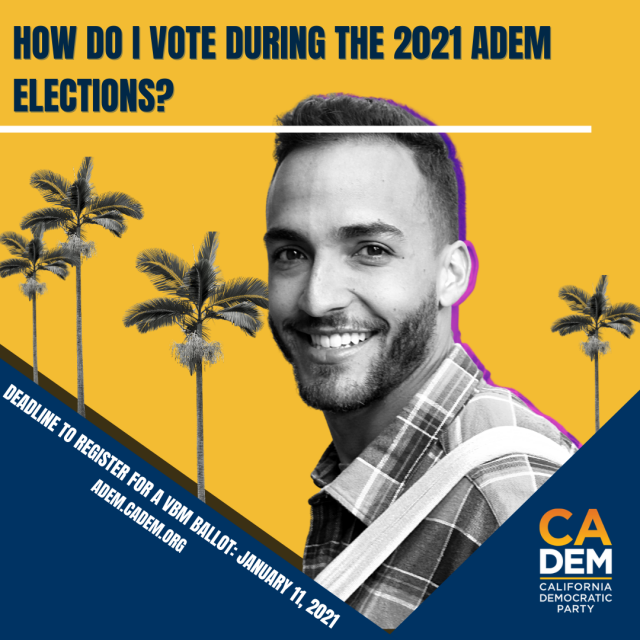 Update: The deadline to return your ADEM ballot has been extended. All ballots received by Wednesday, February 3 will be counted.
The election for delegates to the California Democratic Party — called Assembly District Election Meetings or ADEMs — is taking place now. The deadline to request a ballot (January 11) has passed, but your vote is important!
We encourage you to vote for your fellow CFT members who are running for an ADEM delegate position. See the list of members who are running below.
AD 17 Susan Solomon
AD 17 Bill Shields
AD18 Kyle Hamilton-Lecky
AD18 VanCedric Williams
AD 19 Cris Garza
AD 29 Kati Bassler
AD 30 Marisela Cerda
AD 30 Carla Gonzalez
AD 30 Steve McDougall
AD 38 Sandy Keaton
AD 38 Jodie Cooper
AD 39 Emilie Hill
AD 44 Tim Allison
AD 44 Erica Lundy
AD 45 Gregg Solkovits
AD 45 Andra Hoffman
AD 45 Yasmine Pomeroy
AD 50 Kyna Collins
AD 50 Elizabeth Clark
AD 51 Victor Frias
AD 51 Joel Laguna
AD 51 Mishna Erana Hernandez
AD 51 Alicia Romero Perez
AD 55 Lyndsey Lefebvre
AD 58 Ayde Bravo
AD 64 Tiffanie Smith
AD 65 Bobbi-Lee Smart
AD 66 Argentina Rodriguez
AD 67 Kelly McDaniel
AD 69 Tanya Golden
AD 70 Stephanie Rosenblatt
AD 70 Vincent Vo
AD 72 Gina Clayton-Tarvin
AD 74 Cory Johnson