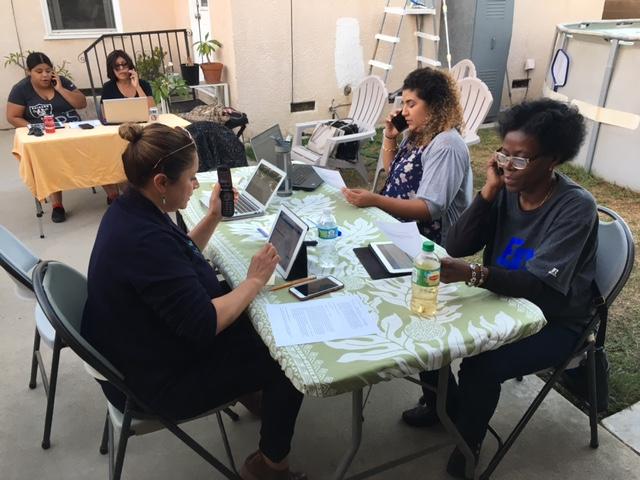 The election is just a couple days away, and we want to share with you the outstanding work that CFT members, leaders, and staff have done to ensure victory for Prop 55, Kamala Harris, Hillary Clinton, and dozens of CFT's state and local priorities.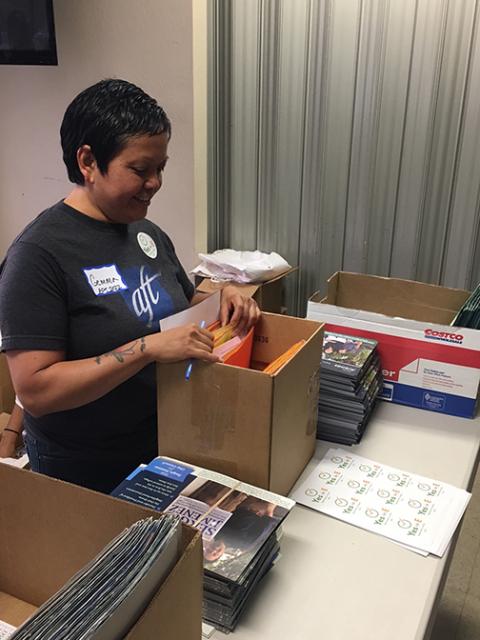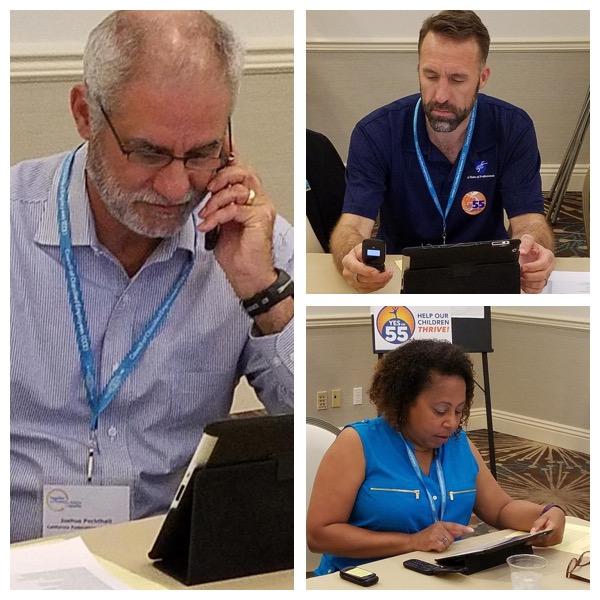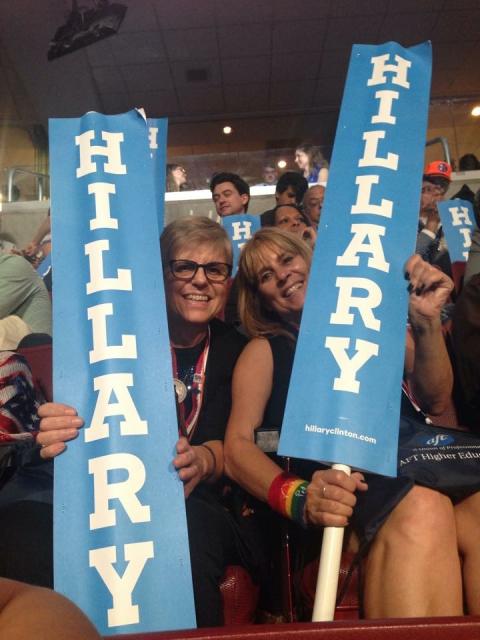 Our top priority this year has been to pass Prop 55, an extension of 2012's Prop 30, which maintains a tax on the wealthiest Californians to provide as much as $8 billion a year in revenue to fund public education and healthcare.
In the last week of September and early October, more than 20 CFT locals held "walk-ins," staffed literature tables, leafleted, created human billboards along busy streets, and held press conferences under the auspices of the national Alliance to Reclaim Our Schools (AROS) to spread the word about the importance of fully funding public education by passing Prop 55.
More than 30 CFT locals hosted phone banks, contacting thousands of CFT members about Prop 55 and other local priorities.
CFT staff and members have been working in 10 Central Labor Councils, and member volunteers are participating in those and many more CLC programs across the state.
While California is not a battleground state in the Presidential election, CFT members pitched in nonetheless by attending the Democratic National Convention in July and by volunteering to canvass in battleground states like Nevada, Florida, Ohio, and Pennsylvania. More than 50 CFT members stepped up and traveled to key states to make sure that Hillary Clinton is the next President of the United States.
CFT leaders and members demonstrated their support for Prop 55 by phone banking at CFT events throughout the fall, including at the September State Council meeting, the Classified Conference in October, and weekly in remote locations around the state through the CFT's Strategic Campaign Initiative program.
And there's much more! Here are a few impressive stats:
Members distributed thousands of Prop 55 flyers, CFT slate cards, lawn signs, stickers, and buttons at their worksites.
Among the many locally hosted phone banks, Local 1521, the LA College Faculty Guild, hosted weekly phone banks, dialing over 28,000 CFT members, September through November.
At least 27 local school boards and boards of trustees passed resolutions in support of Prop 55.
CFT members overwhelming support Prop 55, with 87 percent of identified members saying Yes on 55.
Over 100 CFT members were trained on Prop 55 talking points and speaking techniques at CFT Speakers Bureau trainings held statewide.
CFT gave over $1,000,000 in contributions and in-kind services to help pass Prop 55.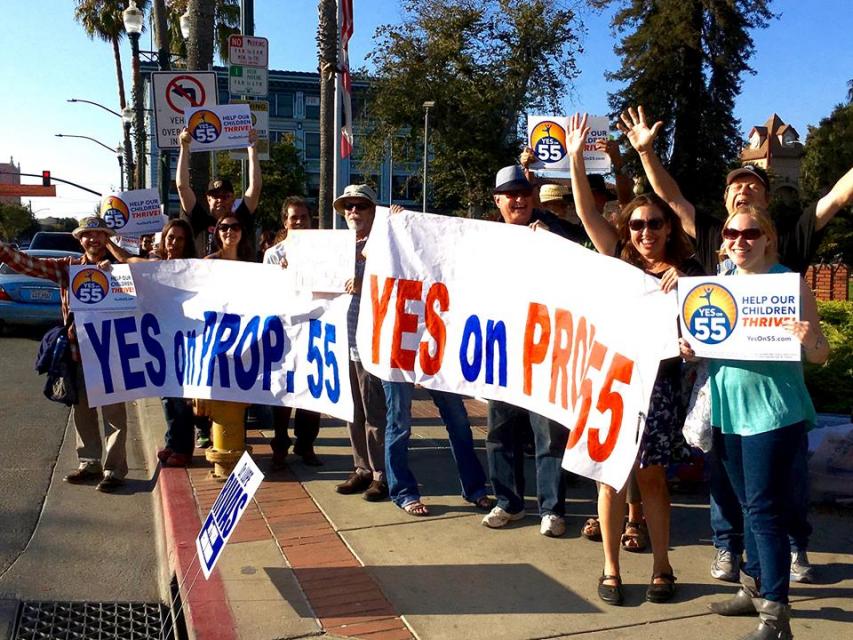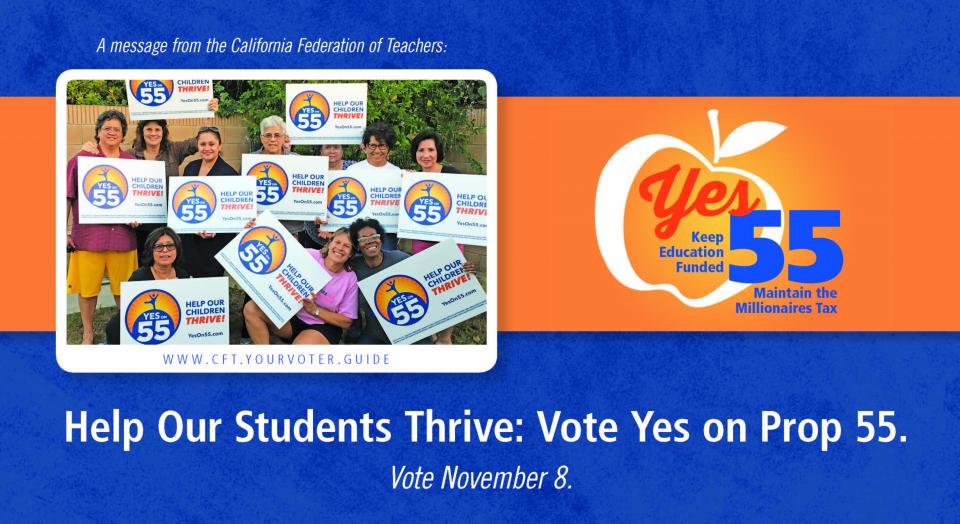 For the general election, CFT gave $274,000 to state legislative candidates, $76,200 to local candidates, and $44,000 to local measures. For the first time, CFT used a "press one" autodial call that asked members to affirm their support for Prop 55. This call dialed to over 40,000 CFT members.
CFT members will receive GOTV text alerts for the first time ever.
In our 11 targeted state legislative races, thousands of CFT members received candidate-specific mail pieces and robocalls.
CFT members received four pieces of mail from AFT and 3 pieces from CFT, featuring members, about our endorsed propositions and candidates.
In addition to Central Labor Council release, CFT staff are released directly to four Prop 55 campaign offices statewide.
The great work of CFT members has been featured in publications across the state including articles in the Los Angeles Times and an op-ed in the San Diego News-Tribune.
Members have also been featured in videos focusing on the impact of Prop 30 and the need to pass Prop 55.
All our hard work is paying off, but the fight isn't over! You can help us cross the finish line by volunteering at your local Central Labor Council or with your local union during GOTV weekend.
Onward to Election Day!

Paid for by the California Federation of Teachers COPE and Prop Ballot Committee