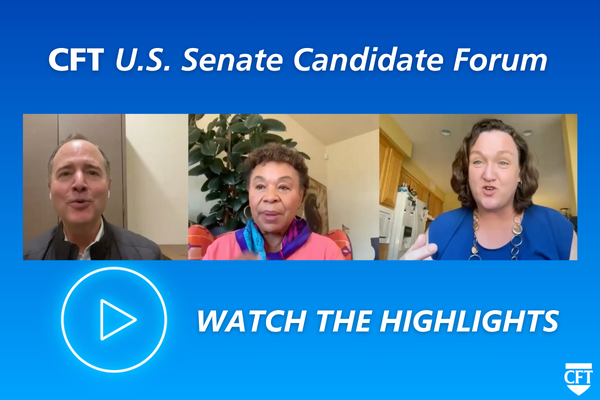 At the CFT Senate Candidate Forum on October 14, over 300 CFT members in person and online got to hear directly from the leading candidates on their records on and support for public education.
The event was part of the CFT State Council, held in San Jose with the candidates – Barbara Lee, Katie Porter, and Adam Schiff – all appearing online.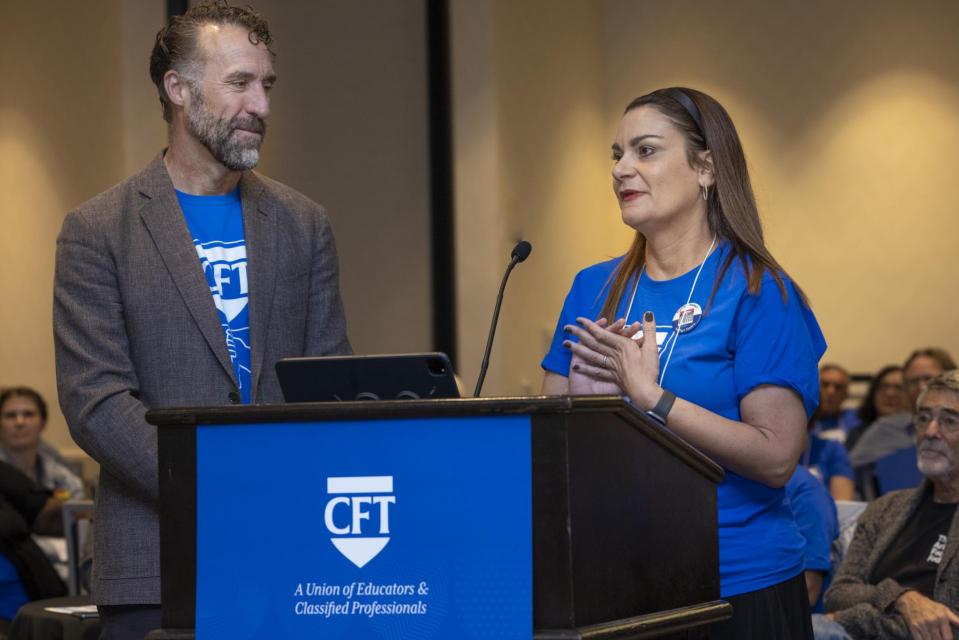 Up first was Congressman Adam Schiff from Southern California. As part of his remarks, Schiff shared how he previously was an adjunct faculty member at Glendale College, and a proud CFT member.
"I'm laser focused on fighting to raise salaries for working families and also making sure that everyone has a good chance to succeed. And that means a good quality public education," said Schiff, who shared that while in the California State Senate he fought to improve teacher pensions, to update textbooks, and more paid work days for teachers.
"I am an unapologetic, unreservedly, pro educator, pro worker, pro labor Democrat running for the US Senate. I'm the proud product of a public K-12 education," he added.
Up next was Orange County Congresswoman Katie Porter, who credits the educators and school workers who are there everyday for her family as the reason why she is able to do her critical work in Washington.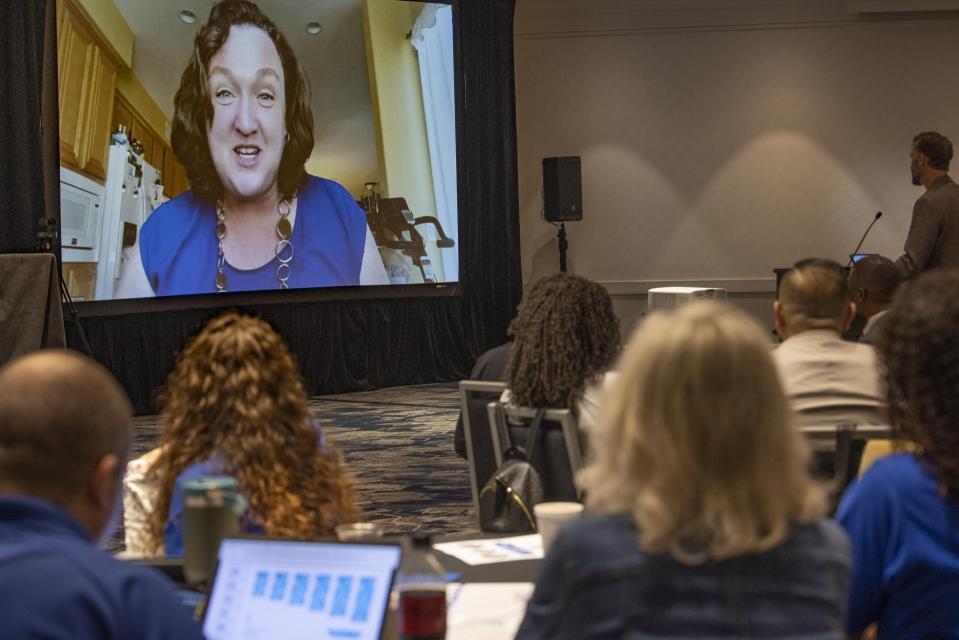 "Educators and education support professionals make it possible for me, like so many Californians, to be able to earn enough to take care of our families. They are essential partners to parents and to employers and to our entire economy and community. So I just have tremendous respect, gratitude and appreciation for our education workforce," she said.
Porter, who wrote legislation closing a loophole that insurance companies used to deny mental health services to public sector workers, emphasized that funding for education should be seen as an investment, not as spending.
"Public education makes our economy stronger for everyone and every American, regardless of if they have kids or not, regardless of if they send their kids to public schools or not benefit from having all children able to attend quality public schools from early childhood all the way up through community colleges and universities," she added.
And closing the forum was East Bay Congresswoman Barbara Lee, who shared that she has spent her entire career fighting for people who have been shut out of power.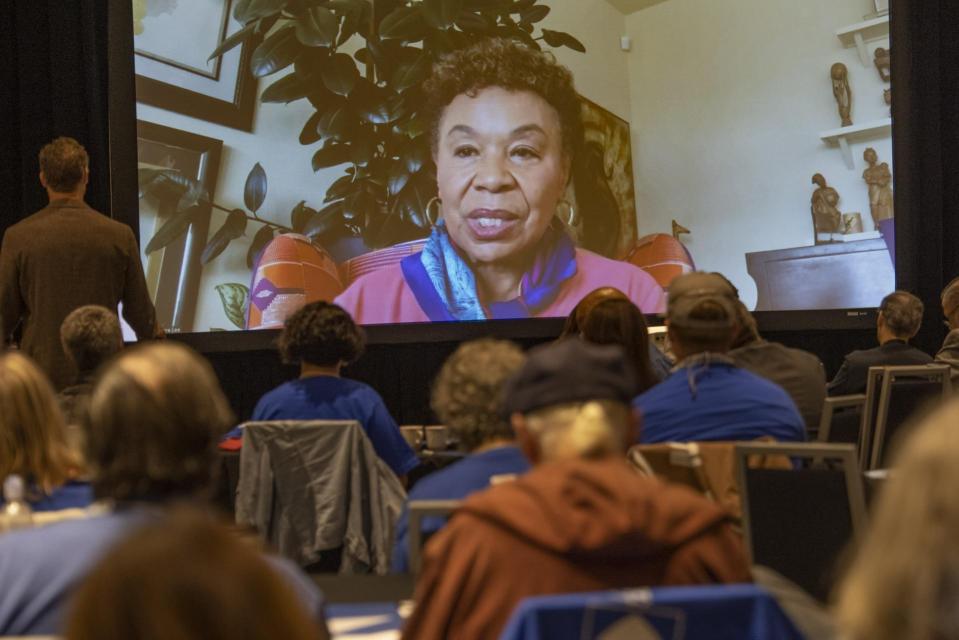 "It's a shame and disgrace that teachers and school officials and employees have to worry about paying the rent or a house note, because the affordability crisis and the cost of living in California is excessive. It doesn't make any sense to be able to have so much wealth in this state to have so many people living one paycheck away from poverty. And so I'm not running for the powerful and the rich. I'm running to serve the people," she said.
Lee, who was the only member of Congress to vote against the open-ended use of force following the September 11 attacks, said that she believed we all must stand up to extremist attacks on our schools. "From banning the books to trying to bully kids out of who they really are, this has been going on for decades. It's not new, but we've got to end it. And California needs to lead the way," she added.
Following the forum, CFT members in attendance in person universally shared that they were grateful to hear directly from the candidates on their support for public education and for working people. Senator Laphonza Butler, who was appointed to the position by Governor Newsom following the passing of former Senator Dianne Feinstein, has announced that she will not seek election to the office. The only other major candidate to declare for the office is former professional baseball player Steve Garvey. He is running as a Republican.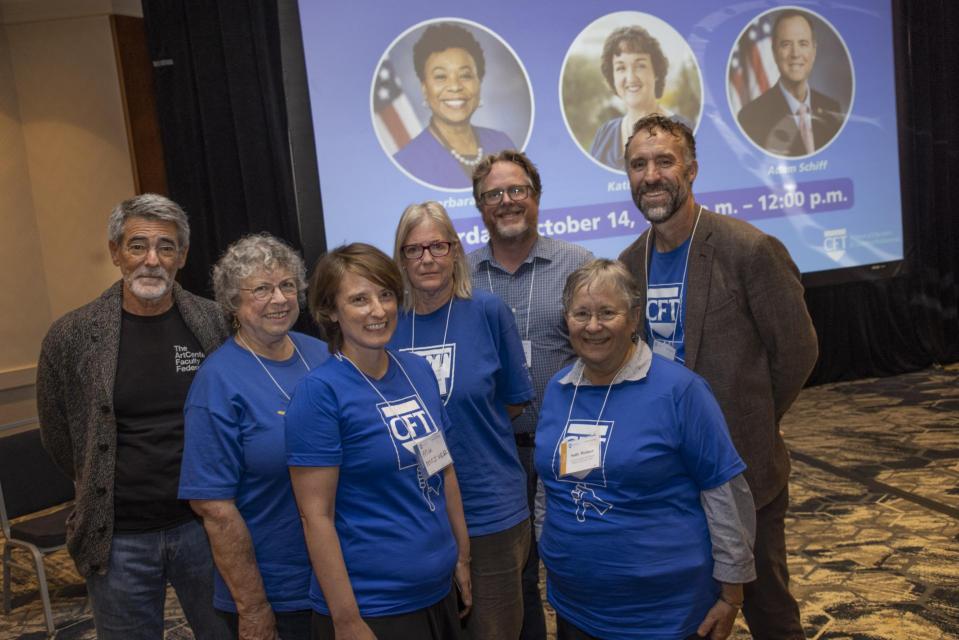 The CFT Executive Council will decide whether to make an endorsement in the race at their upcoming meeting in November.