Safe Havens Toolkit
Resources to support undocumented students and families
Resources from AFT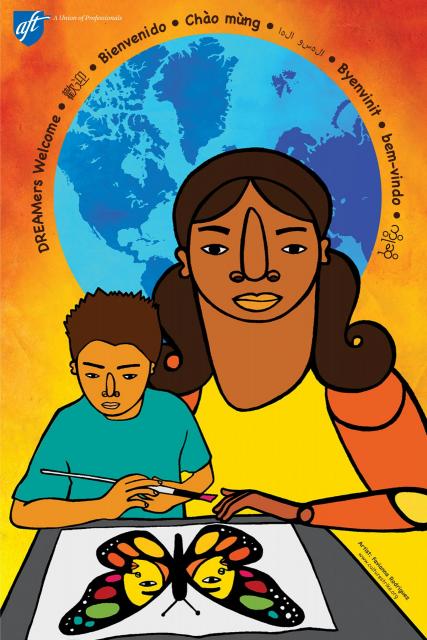 Booklet
FLYERS
Things families can do to prepare for an ICE raid
15 things educators and support staff can do to protect undocumented students
What to do if ICE comes to your door
Creating a family immigration raid emergency plan​
POSTER
Websites
Resources from other organizations
Booklets and FACT SHEETS
Frequently Asked Questions for Faculty

The American Association of University Professors and AFT created an FAQ for member education and local union use. Informed by faculty experience, this FAQ is designed to prepare academics for the possibility of increased attacks on campus.

Immigrant and Muslim Ban ToolKit

The American-Arab Anti-Discrimination Committee prepared this toolkit for students and educators who may be impacted by the Trump administration's executive orders on immigration. Find out who these orders directly affect and what action to take.

Undocumented Students and Families: The Facts

is a two-page summary prepared by the Association of California School Administrators outlining the rights of students, staff, and parents.
PRESENTATION
AB 540 & Undocumented Students

A Powerpoint shared by faculty members from the Los Rios College Federation of Teachers. It covers AB 540 and the California Dream Act and can be adapted for local use.
WEBSITES
Sample resolutions
Many school and college districts have passed resolutions asserting their right to keep public education safe for all students. You will find a resolution protecting public schools, model language for declaring a college a safe zone, and a sample letter for higher education campuses.
On March 22, 2017, CFT joined an amicus brief filed on behalf of public schools and educator associations.
Classroom lesson plans
"Teaching After the Election of Trump" from The Zinn Education Project offers ways to show students, for example, how social movements have made strides during dark times, and highlights examples of "divide and conquer" politics.
"Voting and Elections: Resources for a Civil Classroom" from Teaching Tolerance and the Southern Poverty Law Center gives lots of ideas for lessons on subjects including responding to bias, participating in civic life, and an educator's guide to religious diversity and the immigration debate.
Edutopia has comprehensive lesson plans mostly created before the election, but with video links and lessons on topics such as the Electoral College.
The New York Times Learning Network offers lesson plans on current events, social studies, and other subjects.
Statements from California elected officials
Superintendent of Public Instruction Tom Torlakson, on January 30, 2017, announces, "Our schools are not and will not become an arm of the U.S. Customs and Immigration Enforcement. Instead, they will remain safe places for learning and teaching for all students, regardless of immigration status."
Joint statement from Senate President pro Tempore Kevin de León (D-Los Angeles) and Assembly Speaker Anthony Rendon (D-Paramount): "California is — and must always be — a refuge of justice and opportunity for people of all walks, talks, ages and aspirations — regardless of how you look, where you live, what language you speak, or who you love… California will defend its people and our progress."
Gov. Jerry Brown, in his State of the State speech on January 24, 2017, vowed to do everything in his power to protect all Californians.