Luukia Smith wins Ben Rust Award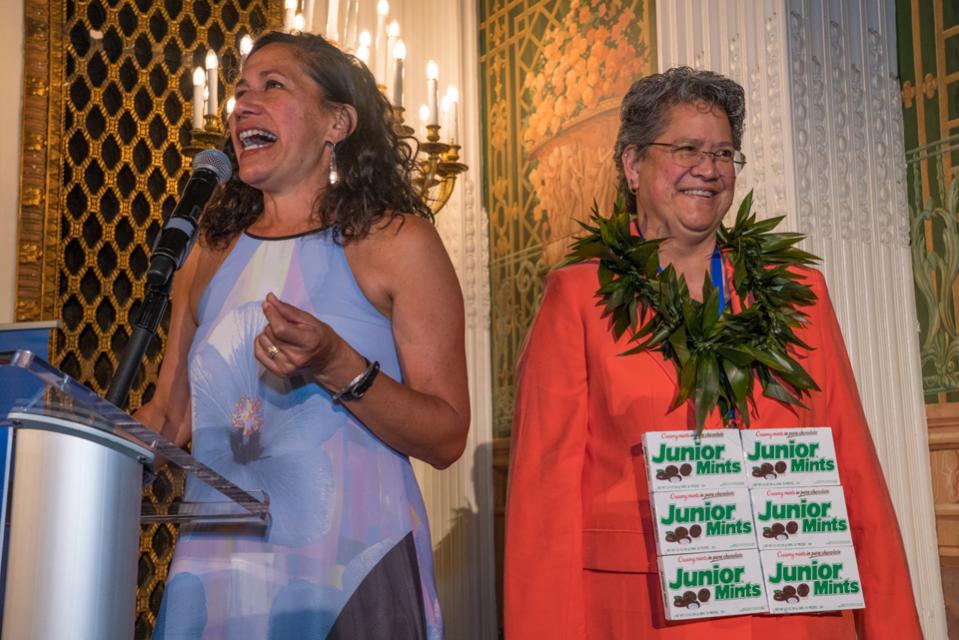 At the CFT Awards Dinner, along with giving out the Ben Rust Award to Luukia Smith, the union also honored Belinda Lum with the inaugural award named for Dean Murakami, and Jenny Ferrero and Barbara Baer with the Women in Education Award.
Performer, Chair of the San Francisco Democratic Party, and co-founder of San Francisco's Transgender District Honey Mahogany, wearing a ruffled black dress and a gold bow, acted as Mistress of Ceremonies.
"It's a thrill to be able to be here with CFT," Mahogany said. "You're at the frontlines of the fight for our democracy. Thank you for all the work you are doing."
CFT Vice President Joanne Waddell and Lawrence Hamilton Lawson, co-president of San Diego County's Palomar Faculty Federation, gave Women in Education awards to Ferrero, a child development and education professor and economics professor Baer, both in PFF. The women were honored for their work on funding healthcare benefits for part-time faculty members statewide.
"One of things I'm proudest of union leader and union member are the gains in part time health care, which have taken years," Ferrero said. "Unions improve lives. Being a member is an honor and a privilege."
Next, Pat Murakami and the president of Sacramento's Los Rios College Federation of Teachers, Jason Newman, presented chief negotiator for the LRCFT and sociology professor Belinda Lum with the Dean Murakami Award.
Newman thanked the CFT for creating the award named after Murakami, a former president of LRCFT and CFT Vice President, who passed away in 2020.
"He taught us that labor activism and social justice are inseparable," Newman said.
Lum deserved the award, Newman said, citing her innovative ways of working with undocumented students and for equity on the bargaining team with her "boundless energy and determination make a real difference."
Lum thanked Newman and talked about what the award meant to her.
"I am humbled to be honored with an award named after a dear friend, colleague, and mentor," she said. "We don't do the work solo, we do it as a team and the Los Rios College Federation of Teachers is part of that team."
Lum also thanked Pat Murakami for being there and noted that the work Dean Murakami did often meant he spent less time with her.
"At the end of the day the social justice work all of us do is in service of our students and community," Lum said. "It's the manifestation of love and making sure we take care of each other."
Lawndale Federation of Classified Employees President and CFT Vice- President Carl Williams presented Smith with the Ben Rust Award. He said that Smith, the former president of the El Camino Classified Employees and the first classified employee to be CFT's Secretary- Treasurer, deserved the CFT's most prestigious award.
"Her work impacts all of us," he said. "She has shown that classified is not only essential but can rise to the highest levels."
Williams talked about what he and Smith had gone through together as union workers— such as traveling thousands of miles, lobbying the capitol, and knocking on doors in political campaigns.
"She compliments me, she critiques me, she inspires me, and most of all she loves me, and I love her," Williams said, tearing up. "She will answer a call from me 24 hours a day, seven days a week."
There were also some tears — as well as laughter— when Smith's sister got up to talk about her. She told a story about Smith fainting the first time she did public speaking at church as a child. Then she grew more serious.
"I don't know my sister in this world, but I know my sister in my heart," Smith's sister said close to tears. "What I have experienced the last couple days is who I know she is."
In her speech, Smith thanked CFT President Jeff Freitas as well as CFT Vice President Lacy Barnes.
"Lacy, Jeff and I make a fantastic team," Smith said. "We all bring different things to the table. We can have disagreements and come out of those with love to further CFT's vision of doing better for the organization and teachers and classified employees."
Smith also thanked her wife for her support, saying she wouldn't have been able to do the work without her.
"I've been nurtured by this organization," she said. "I hope I'm given as much to this organization as this organization has given me."