Convention delegates rally for the schools San Francisco students and communities deserve
By Emily Wilson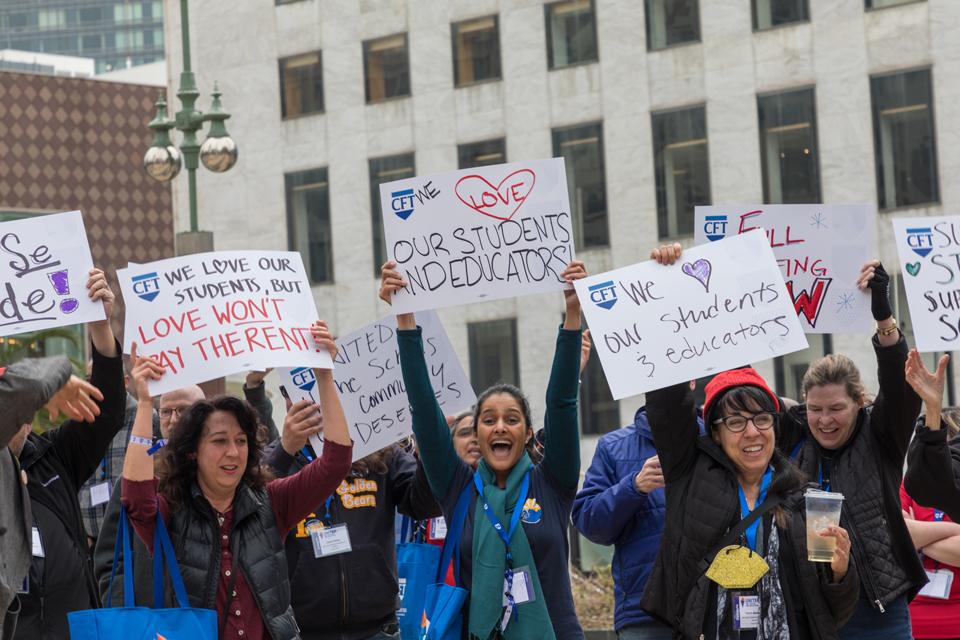 On the lunch break during the convention on Saturday, delegates crossed the street from the hotel to San Francisco's Union Square to rally for the schools that San Francisco students and communities deserve. While a brass band played, people waved signs with messages like "Love Won't Pay the Rent," and "CCSF is the Heartbeat of San Francisco," and chanted, "Get up, get down, San Francisco is a union town."
Local leaders including AFT 2121 President Mary Bravewoman from City College of San Francisco, United Educators of San Francisco President Cassondra Curiel, former UESF President and now CCSF Trustee Susan Solomon, and CCSF Student Chancellor Heather Brandt, spoke to the crowd about the importance of supporting public education by fully funding schools.
Dustin Huber, the president of Ventura County Federation of Paraeducators, AFT Local 4434-1, said it was important to him to be there.
"I wanted to support my brothers and sisters in San Francisco," he said. "They need better wages and smaller class sizes."
Molly Bluestein, a member of Berkeley Federation of Teachers, Local 1078, says she makes a point to go to events that show solidarity with CFT members. She thinks school staffing shortages are a major issue.
"In San Francisco in particular, it's hard for teacher and classified staff if they're not paying them a living wage," she said. "We need a strong public education system."
On stage, Curiel told the crowd that school workers need to be respected and compensated and the local was fighting for that at the bargaining table.
"There is no shortage of qualified or aspiring educators in this country or in this city," she said. "There is a shortage of pay, there is a shortage of support, and there's a shortage of leadership and federal and state funding for the robust public schools that we all deserve."
Brandt said that many things made up her identity, including being a product of public education — an opportunity she wants others to have. Solomon, who like Brandt, grew up in San Francisco, said she planned to take her cues as a CCSF trustee from the others on stage.
Going to CCSF changed not only the trajectory of her life, but her daughter's and grandchildren's as well, Bravewoman said. A single mother and the first in her family to finish high school, she had been labeled "not college material," but counselors, staff, and faculty at CCSF supported her and after working as a classified employee, she now teaches in the math department there.
Bravewoman described herself as tired after all the CCSF struggles over the last several years including with accreditation, layoffs, and pay cuts. But she says she is optimistic.
"I remain hopeful because this is the time to turn our attention to rebuilding, not downsizing, our college to its proper role in the community," she said. "And that's going to take commitment. The administration must make a concerted and collaborative effort to bring students back."
After the rally, Carolyn Samoa, a paraeducator with UESF, said she came to stand up for better conditions and pay.
"I always tell people I make $60,000 after 34 years of being an educator," she said. "We do need more money, but also more hours and more respect, especially for classified."