2023 Labor Day Events Across the State
Join a local celebration of Labor Day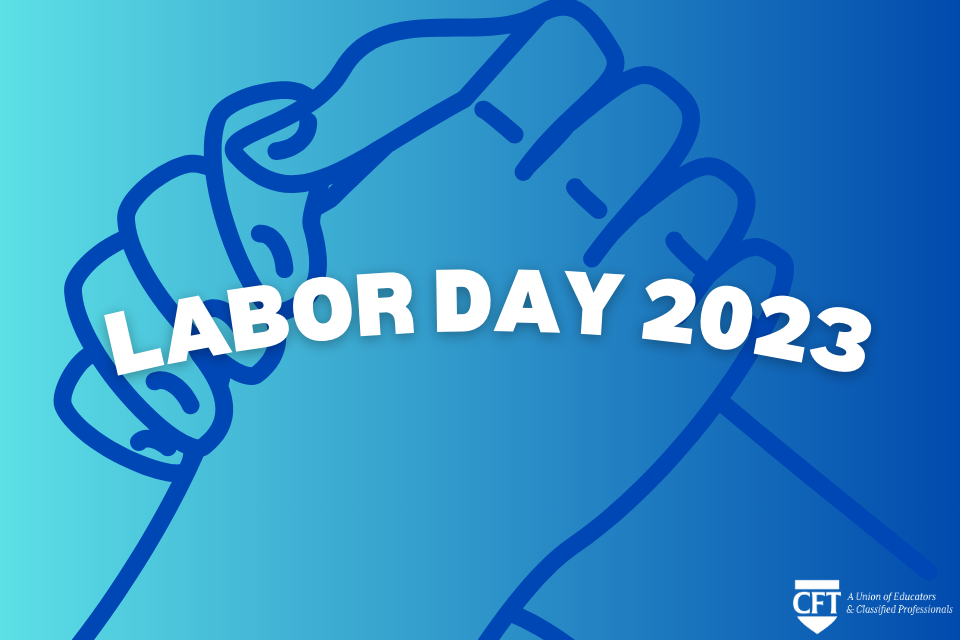 Rally for Good Jobs and Safe Streets
This rally is to encourage the Governor to sign #AB316 – the California Labor Federation's bill with the Teamsters to ensure there is a human operator on any large autonomous vehicle, big rig or bus. AI is wreaking havoc in the workplace and this is just one instance where we have garnered broad bi-partisan support to put some limits on this unsafe, job-killing technology. There will be buses and caravans coming from throughout the state.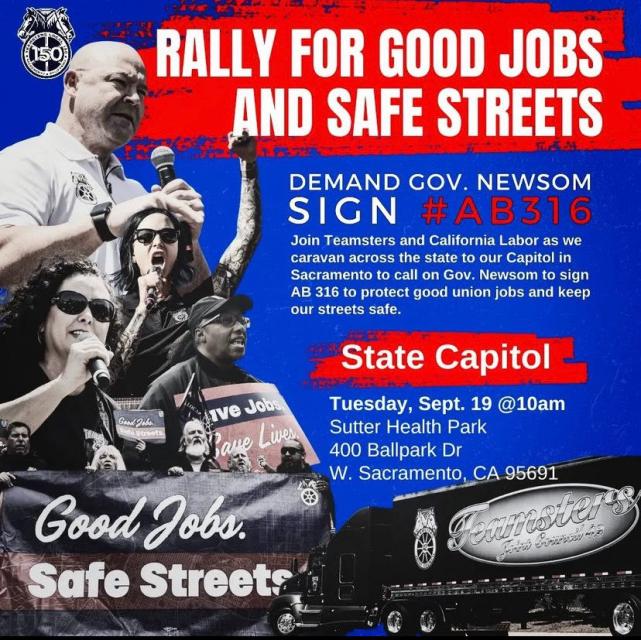 California Labor Federation Events and Actions
Labor Day signifies more than just the end of summer—it's a poignant reminder that our journey towards progress for workers is an ongoing struggle. Each fight we take on together for working people helps shape a future where union jobs are within every Californian's reach.
Find a Labor Day event in your area and be part of this meaningful movement!
44th Annual Los Angeles/Long Beach Harbor Labor Coalition
Labor Day Parade & Picnic Rally
Monday/Lunes - September 4, 2023
March Starts At: Broad & E. St. In Wilmington La March Comienza En: Broad Y E. St En Wilmington
Assembly Begins At 8 AM | March Departs At 10 AM Formacion Empieza 8 AM | La Marcha Sale 10 AM
Rally at Banning Park at 12 PM | Speakers, Music, Shuttle Buses, Hot Dogs, Soft Drinks, & More! Renunion en Banning Park 12 PM | Voceros, Musica, Autobuses de Transporte, Hot Dogs, Sodas, y Mucho Mas!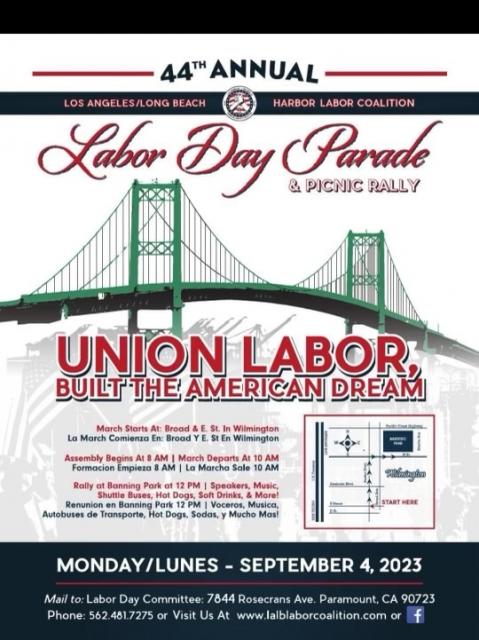 10th Annual Santa Maria Valley Labor Day Picnic
When: Friday, September 1, 2023 | 3:30pm – 6:30 pm
Where: Pioneer Park, 1150 W Foster Road, Santa Maria, CA
Join us to celebrate the working families of the Central Coast this labor day in Santa Maria!
Dinner Provided — Games — Raffle — And much more!
For more info please contact Leo Decasaus at (820)799-1988 or leonardo@centralcoastlabor.org
This picnic is free and open to union members, their families, friends and community allies.
If you are able to make a contribution to help keep this picnic free, please make checks available to: Central Coast Labor Council 816 Camarillo Springs Road, Suite N Camarillo, CA 93012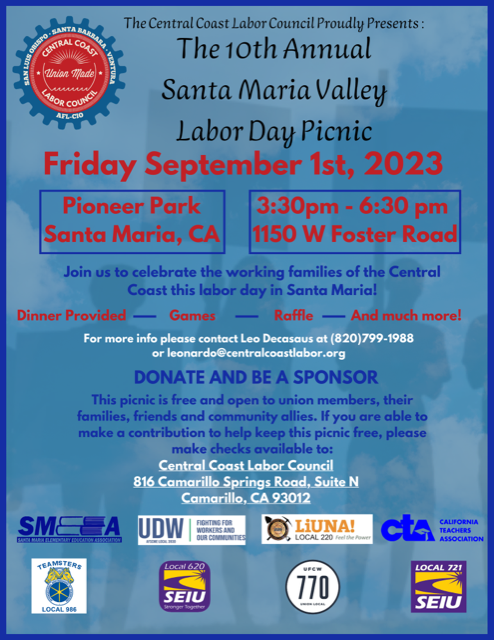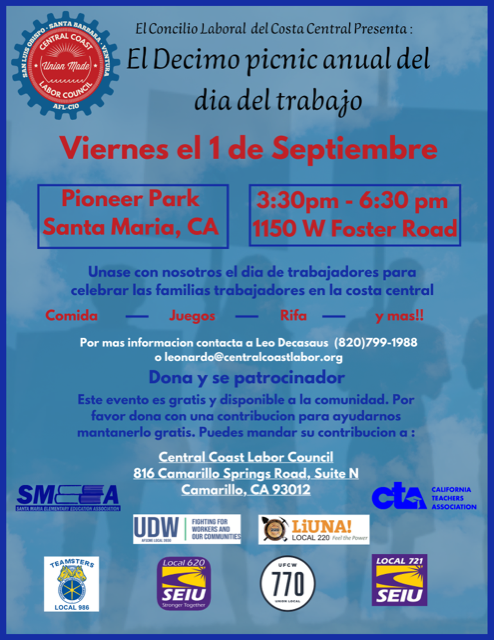 Labor Day Festival & Tailgate at Fresno State
When: Saturday September 9, 2023
Tailgate: 3PM
Kickoff: 7PM
O'Neill Park at Fresno State
For more info please contact: dsavory@myunionworks.com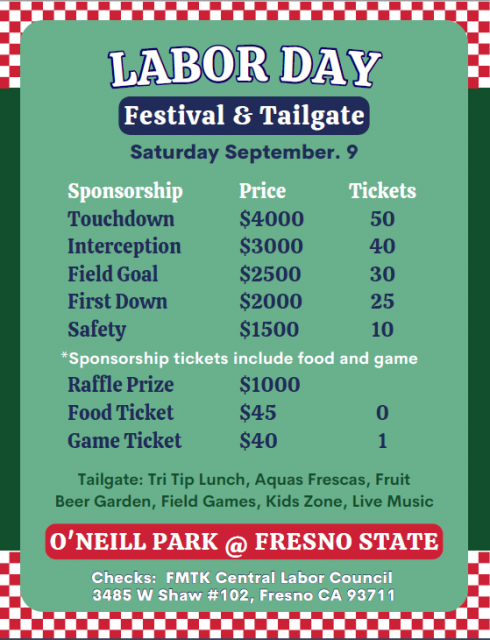 South Bay Labor Council BBQ
When: Saturday, September 2nd | 11:30am-1:30pm
Where: IBEW 332 Patio, San Jose CA
For more info and to confirm attendance email: RSVP@southbaylabor.org to confirm your attendance.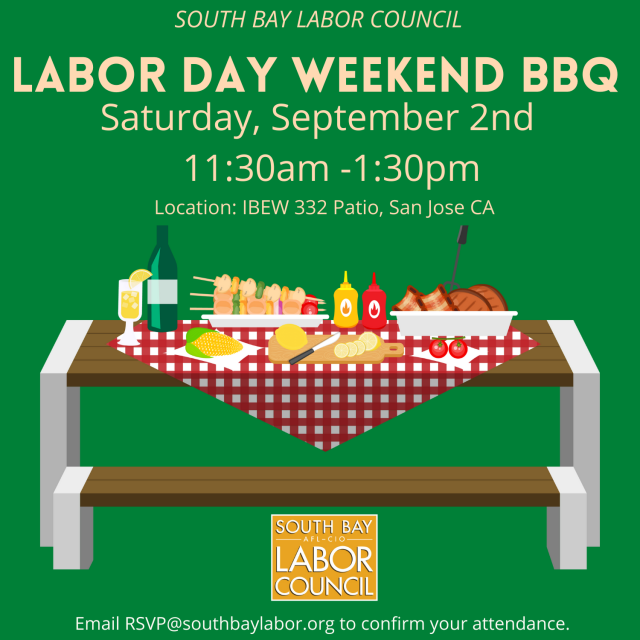 Watsonville Labor Day Celebration
When: Monday, September 4th | 11am-3pm
Where: 335 Main Street, Watsonville, CA 95076
Defend and Build support to organize the unorganized, save health care, and fight for immigrant rights.
For more information or to become a sponsor contact Daniel at laborcouncil@mbclc.org
San Francisco Labor Council Breakfast
When: Friday, September 1, 2023 | 8:30 AM
Where: Intercontinental Hotel, 888 Howard Street, San Francisco CA
Tickets: $150 – Table of 10: $1,500
Please R.S.V.P. by August 25th to Emily Nelson at emily@sflaborcouncil.org.
Please note you must either contact Emily or purchase online to be registered.
You can also register online by clicking here.
Checks can be made out to the SF Labor Council and sent to: 1188 Franklin Street, Ste 203, San Francisco, CA 94109.
Employers and entities seeking a tax-deductible contribution may send payment to sfCLOUT, a 501c3 educational nonprofit, with "Labor Day" in the memo line.