Educators, students, community rally for Props 55 and W
FOR IMMEDIATE RELEASE: Thursday, October 6, 2016
Matthew Hardy, 415-513-3179
Li Lovett, 415-370-5279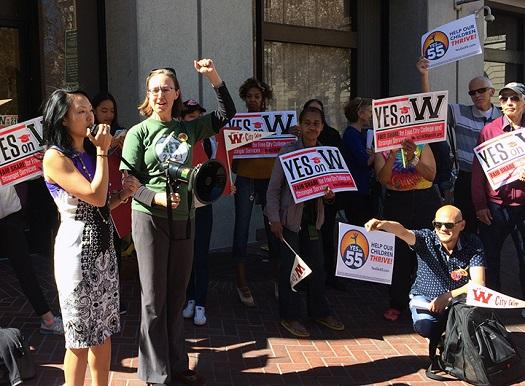 Need progressive tax policy to fund quality education
San Francisco – Earlier today hundreds of teachers, parents, students and community supporters joined with their peers in cities across the country and staged "walk-ins" before school began at more than a dozen San Francisco sites in support of quality public education. At noon, one hundred City College of San Francisco faculty and students rallied at the Civic Center campus on Market Street [see video]. Both events highlighted the need to secure adequate funding for all levels of education through fair tax policies, and drew attention to the statewide ballot Measure, Proposition 55, and the local San Francisco measure, Prop W.
Prop 55 will maintain current income tax rates on the wealthiest Californians to fund schools across the state. It is an extension of a temporary tax, Proposition 30, passed by voters in 2012, which prevented billions of dollars of cuts and thousands of teacher layoffs and has begun to restore positions and programs lost to the Great Recession. Activities such as this are taking place across the state as the Yes on Prop 55 campaign picks up momentum.
Prop W would generate an average of $44 million per year in new revenues from a slight addition to the transfer tax rate for ultra-luxury real estate properties sold for $5 million and over in the city. The revenues would address a number of needs, including building affordable housing, assisting homeless residents, improving infrastructure, and making CCSF tuition-free.
The events today coincided with similar walk-ins and rallies across the country organized by the Alliance for Reclaiming Our Schools, or AROS. More than a hundred thousand people participated, joining local election advocacy with the general call for increased resources and funding for public education. The morning "walk-ins" in San Francisco were organized by the Close the Gap Coalition, which formed four years ago to advocate for quality public schools in the City. Member organizations include Coleman Advocates for Children and Youth, Jobs with Justice, the Alliance of Californians for Community Empowerment, SEIU 1021, and the United Educators of San Francisco.
Cayla Lewis is a CCSF student who spoke on Prop W and in support of Prop. 55 during the "walk-in" at Buena Vista /Horace Mann School. She said, "Everyone deserves an accessible education, and they shouldn't have to choose between their education and being able to survive the high cost of living in San Francisco. I'm here in solidarity with the work that you all are doing to protect our public schools in San Francisco."
Said Susan Solomon, an elementary teacher and Executive vice president of UESF, during the walk-in at Malcolm X Academy, "It was really encouraging and exciting to be out of in front of the schools this morning with students, parents, and union educators talking about Prop. 55. We got a very positive reception from parents who understood immediately that passing Prop 55 means funding for their children's future."
Jessica Buchsbaum, ESL instructor at CCSF, said, "The rally today was amazing. Labor and community, faculty and students came out to support Prop W and Prop 55. People are so excited about making CCSF free again."
Anakh Sul Rama, Community Housing Partnership organizer, said, "Free City College offers hope for struggling workers, the homeless, seniors and immigrants, the poor and middle class. The rest of the nation will take notice, spreading this hope."
Kevine Boggess, of Coleman Advocates said, "Today, as part of a growing national movement, San Francisco students, parents, community groups and labor groups came together to stand up for the right of all young people to a quality public education. This morning we walked in to our schools to demanding more resources for our school. Every young person regardless of race, ethnicity, class or zip code has the right to a high quality education, to a voice in the decisions that affect them, and to learn in a safe, supportive and affirming school environment."
####
United Educators of San Francisco represents teachers and paraprofessionals in SFUSD. AFT Local 2121 represents faculty members in CCSF. They are both affiliated with the California Federation of Teachers, representing 120,000 education employees in public and private schools, from Head Start through the University of California. CFT is affiliated with the American Federation of Teachers, AFL-CIO.