CFT makes commitment to defend American democracy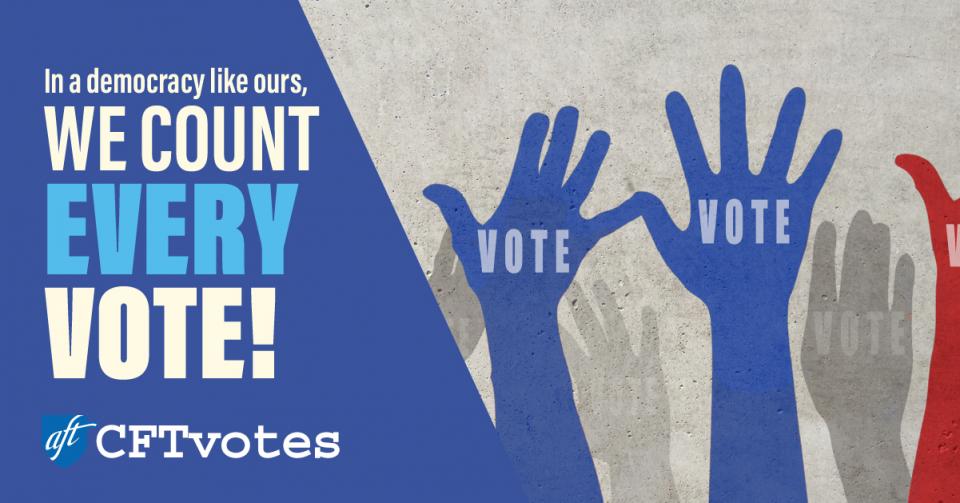 California Federation of Teachers
For Immediate Release
Contact: Matthew Hardy, 510-703-5291
SACRAMENTO, CA – The California Federation of Teachers' Executive Council unanimously passed a resolution yesterday outlining the union's principles to defend American democracy, including the exercise of the right to vote and the requirement to count every vote, in light of ongoing threats by President Trump and his allies.
The resolution follows a similar one passed by the American Federation of Teachers earlier in the week, highlighting four key areas that the union says must be protected:
Every American citizen registered to vote must be able to vote.
Every vote must be counted.
The electoral verdict must be respected.
We will not be intimidated. When democracy is in danger, we will be in the streets and in our workplaces with our colleagues in the labor movement and allies in the community, defending it against its enemies—foreign and domestic.
"As educators and classified professionals, we are alarmed that the American democracy that we teach in our schools' civics classes has been attacked over the last four years. We teach our students the importance of exercising their right to vote and now we must protect that right and our democratic institutions," said CFT President Jeff Freitas. "Every eligible registered voter must be able to exercise their right to cast a ballot and every vote must count. We will not tolerate any threats to a free, full, and fair election."
The CFT resolution includes commitments to remain engaged with fellow democracy defenders to see that all votes are counted and the will of the people is reflected in the peaceful transition of power to the legitimate winners. It also includes a staunch rejection of election interference, threats, tampering, stealing, acts of violence or other actions that undermine the will of the people in this exercise of American democracy.
Importantly, the resolution puts the full weight of CFT's membership behind this commitment to democracy.
The full resolution can be found here.
# # #
The California Federation of Teachers represents 120,000 educators and classified professionals in public and private schools and colleges, from early childhood through higher education. It is the statewide affiliate of the AFT. More information at www.cft.org.