#RedForEd Day of Action at the State Capitol
Register below: Speak out for public education!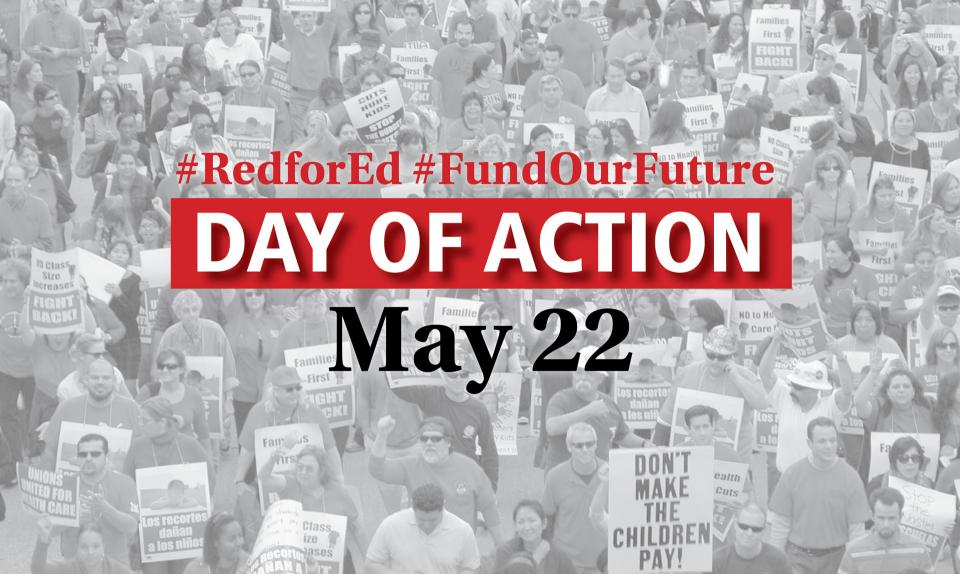 Join us in Sacramento on May 22 for the statewide #RedForEd Day of Action in support of public education! Join educators, parents, students, and community allies from across the state to demand funding for our schools, colleges, and universities and to protect our schools from the billionaire privatizers! The day's tentative schedule is below.
About the CFT Home Base: The central meeting point for CFT members will be on the Capitol grounds near the corner of 12th and L. Streets. T-shirts, materials, snacks, water, and a light lunch will be available for members who have registered in advance. There will also be a shaded area with chairs for members to rest during the day.
Download this map showing CFT Home Base and the Capitol Rally location.
Download this map showing parking around the State Capitol.
How you can participate outside of Sacramento
We encourage all CFT members to wear red on May 22 as a sign of support for the statewide Day of Action. Share photos with @CFTunion on Facebook, Twitter, and Instagram using the tags #RedForEd and #FundOurFuture. Download and print one of these signs to hold in your photos! Social Media Cards
May 22 tentative schedule
Time
Action
Location
9:30 am
CFT Home Base opens
Capitol Grounds near 12th and L Streets
12 noon
Lunch for registered CFT members
(served through 2 pm)
CFT Home Base
1 pm
March to defend California's
community colleges
CFT Home Base
3 pm
Gather with attendee groups
Capitol – Rotunda
4 pm
Music and entertainment
Capitol – West steps
5 pm
Rally
Capitol – West steps
Please spread the word on Facebook! Hashtags: #RedforEd, #FundOurFuture
Register here