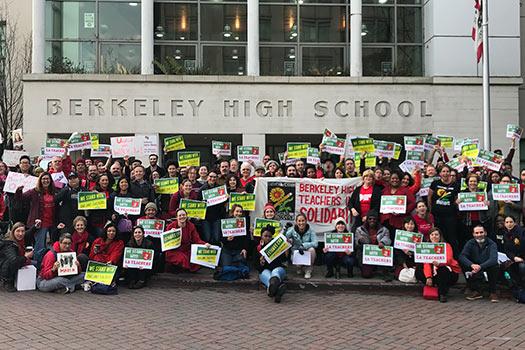 Before the end of the month, teachers and educators in the Oakland Education Association may go on strike for reasons nearly identical to the historic UTLA strike last month. OEA members are fighting for a living wage, smaller class sizes, and more student support. They are fighting for respect.
Here are four things you can do to show your support for Oakland teachers, as they take a stand for their students and their profession:
Wear #RedForEd on February 15th. This Friday has been set as a statewide day of action in support of Oakland teachers. You can participate by wearing #RedForEd with your colleagues on that day, posting photos on social media using the hashtags #RedForEd and #Unite4OaklandKids, and by tagging @CFTunion and @OaklandEA.
Donate to the OEA Membership Assistance Fund. OEA has set up a fund to provide financial support to assist their most vulnerable members in the event of a prolonged strike. The CFT is already in the process of donating to the fund, and we ask that you consider doing the same.
Donate to Bread for Ed. Bread for Ed is an effort to provide food for those students and teachers who won't have access to such resources if they stay out as a result of the strike. There are 37,000 students in the district, the vast majority of whom depend on free or reduced priced lunches.
Walk the Picket Line or Adopt a School. If a strike does happen and you live in or around Oakland, please consider walking the picket line during the strike at your closest neighborhood schools. If you are out of the area, please consider adopting a school.
Thanks again to all for supporting our sisters and brothers in Oakland!