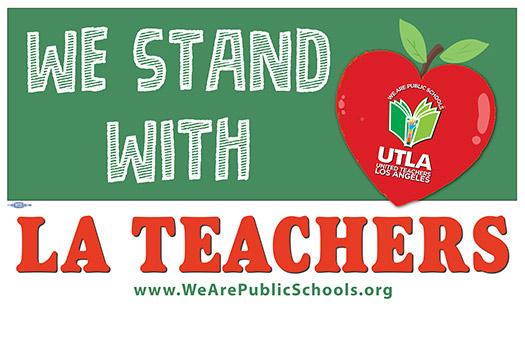 After years of unchecked growth of charter schools, and the hiring of an investment banker with a radical plan to reorganize schools as superintendent of LAUSD, UTLA members are taking a strong stand to protect the future of public education in Los Angeles.
Sign the CFT petition in support of UTLA members
Instead of cutting LA schools to the bone, and denying students the essential services and resources they deserve, UTLA is asking for a profound re-investment in Los Angeles schools, including:
Smaller class sizes
More nurses, counselors, psychologists, and librarians
Competitive wages
Community schools and supports for families
After 18 months of unsuccessful negotiations, UTLA members are set to go out on strike on January 10th. Without significant movement by the LAUSD in the coming days, it is very likely that UTLA members will be forced to walk the picket line.
With so much on the line, these brave educators need our support. Here are two things that you can do right now to stand with UTLA members as they take a courageous stand for their public schools:
1. Sign this petition in support of UTLA. Urge Superintendent Beutner and the LAUSD Board of Education to immediately settle a contract with UTLA educators that invests in students and fully supports educators.
2. Send a message of support this week via social media. CFT members are encouraged to take a photo with the We Stand with LA Teachers sign and post on Twitter, Facebook, and Instagram accounts this week in support of UTLA. Use the hashtags #WeAreLA and #UTLAStrong, and make sure to tag @UTLANow and @CFTunion.
Thanks for stepping up for our brothers and sisters in Los Angeles!