At the Leadership Conference, California's top legislative leaders confirmed their stance defending our state's progressive values and union members learned CFT's legislative and political priorities for the coming year — all this amidst the national backdrop of a massive movement to reject the most unqualified nominee ever for U.S. Secretary of Education, Betsy DeVos.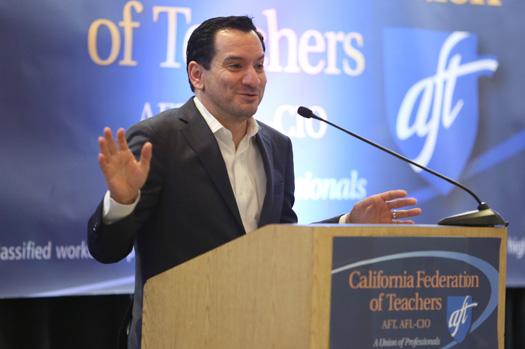 Assembly Speaker Anthony Rendon (D-Paramount) kicked off the event, saying, "We're working hard to represent the progressive values we have always represented. We're not in Kansas, right? We're California, we're taking care of our kids and our progressive values. We're defending our state."
Rendon said the state has retained the Covington law firm where the former U.S. Attorney General practices law. "Eric Holder is working with us to make sure we know what we can do with the federal government and how we can fight back, and California Attorney General Xavier Becerra is working to make sure services for families remain first-rate."
CFT members heard from Rendon and Sen. Bill Monning (D-Carmel) who reiterated the Speaker's commitment and hit on topics ranging from the DeVos nomination, saying, "We now have people who are not going to be champions for public education," to President Trump's immigration ban.
"Trump signed an executive order that probably has a more profound effect on us here in California. What it does is systematically allow for the deportation of anyone who has been charged with a crime, or even a chargeable offense, without the due process right to a hearing."
To defend immigrant rights, Monning said, "The Senate passed a bill to provide representation to undocumented immigrants."
Throughout the two-day politics and policy summit, CFT members had the opportunity to attend skill-building workshops such as organizing and in another track, learn about key policy issues facing the Federation.
On Wednesday night, members were able to talk one-on-one with their elected representatives at a union-sponsored reception in the State Capitol. (See photos on Facebook)
On Thursday morning, attendees fanned out across the Capitol in dozens of meetings with legislators and their aides to promote the legislative agenda CFT will be putting forward this year. CFT is currently working to place several union-sponsored bills in the Legislature.
An AFT representative encouraged attendees to visit a new AFT website AllinAFT.org to find talking points on the Affordable Healthcare Act and Trump nominees, as well as draft resolutions for locally elected boards, petitions and postcards.
Hashtags: #AFTallin, #DumpDeVos