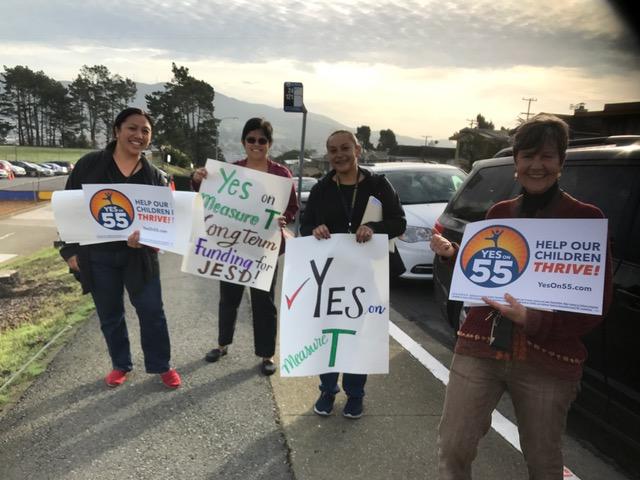 Throughout the Golden State, for the past several weeks, CFT members, leaders, and staff plunged into the election campaign with the intensity that comes from knowing first hand what was at stake.
"Anyone working in public education during the Great Recession a few years ago remembers what that was like for our students, our schools, and our colleagues," said CFT president Joshua Pechthalt. "No one wanted to find ourselves in that situation or anything remotely like it again." This was the reason why CFT's first priority was Prop 55, and we have reason to celebrate that victory today.
Prop 55 gives public education the breathing space to continue to recover from years of cuts and underfunding, and with the $4–9 billion dollars in revenues per year coming from the richest Californians, it also helps address the core social problem of economic inequality.
At the same time, the national political scene has just experienced a tectonic shift. Pechthalt, in a message to members, said, "Rough night! I still can't wrap my head around the notion that Donald Trump was elected President."
We took heart from the election of Kamala Harris as the first African American woman Senator from California. As a daughter of immigrants, her election represents a triumph of our country's best values in an election clouded by misogyny, xenophobia and racism.
Within the confines of California
If you look strictly within the confines of California, it was a pretty good night for CFT, public education, and the issues that our members care about. Six of nine ballot measures we endorsed passed, including Prop 58, which repealed the xenophobic Prop 227 that banned bilingual education.
In California state Senate races, ten of CFT's endorsed candidates won, four lost, and one race remains too close to call. In Assembly races, 46 of 56 candidates endorsed by CFT won. And in California's Congressional delegation, 29 of 36 CFT-endorsed candidates won.
Especially important to note is that a number of state legislative races, and some school board races as well, were overwhelmed with massive political contributions from the California Charter Schools Association, which has become a funnel for the efforts of "education reform" billionaires to expand charter schools and repel efforts to make charters operate more transparently and fairly. More than $24 million was spent by the CCSA in this election cycle. If it is true that "they have the money, but we have the people," that notion will be put to the test in the next round of elections. A welcome exception to the losses in several of these races was the come from behind victory of Ash Kalra in Santa Clara over CCSA-backed Madison Nguyen.
Local races
Our members' boots were on the ground in too many cities to cover them all here. Here are a few highlights.
San Francisco: In addition to electing a majority to the San Francisco Board of Education, United Educators of San Francisco, AFT Local 61, celebrated the ouster of the most anti-union board member. AFT Local 2121, representing faculty in the community college district, helped steer a parcel tax extension to victory, and ditto the progressive Prop W, which, through a modest increase in a transfer tax on ultra-luxury properties that sell for more than $5 million, will make City College of San Francisco tuition-free.
Across the bay, the Peralta Community College District Board of Trustees welcomed a new member, Karen Weinstein, courtesy of strong precinct walking and phone banking efforts by the Peralta Federation of Teachers. The Berkeley Federation of Teachers carried Measure E1 to victory, extending a parcel tax that brings in nearly a quarter of the Berkeley Unified School District's budget.
A few miles south of San Francisco, the Jefferson Elementary Federation of Teachers, AFT Local 3267—with the support of Jefferson High School Federation, AFT Local 1481—pushed a parcel tax across the finish line in Daly City, marking the first time the area's working class voters agreed to dig into their properties to augment school funding, with a spectacular 75 percent "yes" vote.
The two unions, with strong support from the San Mateo Labor Council, also worked on winning High School Board and City Council races. Says Local 3267 President Melinda Dart, "This, along with passing Prop 55, shows that people in Daly City really support their schools. The candidates we elected to both the High School board and City Council are also solid supporters." One new council member attended Melinda's elementary school, and the other has four kids in the district. The two locals also defeated a couple of charter school proponents.
The San Jose Evergreen Federation of Teachers, AFT Local 6147, supported three incumbent trustees, and all were returned to office. The local also worked to pass a college bond measure, which passed with 66 percent of the vote (it needed 55 percent).
In San Diego, AFT Local 1931, representing faculty at the SDCCD, ran the largest Prop 55 phone bank operation in the city, with members and student interns calling thousands of union members and other voters, contributing to a 59 percent margin for the ballot measure in a conservative area. The phone bank also called about the winning Measure K, which moved city elections to November when more people can vote, and got union-endorsed Mary Graham elected to the SDCCD Board of Trustees.
In all, more than thirty CFT locals hosted phone banks, contacting thousands of CFT members about Prop 55 and other local priorities.
Summing up his view of next steps in a message to members, CFT President Pechthalt said, "Our task, once we have taken a deep breath, and reassured our children and our students that as Martin Luther King said, "the arc of the moral universe is long, but it bends toward justice", is to organize and build the progressive movement. This is no less our task if Trump or Hilary Clinton were elected president. The conditions under which we operate will be very different but our job is the same. So hang in there, hug your kids, spouse, friends and dog. We will get through this. It may be rough but we are going to make it."
Ballot Measures
CFT recommendation
Outcome
Prop 53 – No
No
Prop 54 – No
Yes
Prop 55 – Yes
Yes
Prop 57- Yes
Yes
Prop 58 – Yes
Yes
Prop 59 – Yes
Yes
Prop 62- Yes
No
Prop 63- Yes
Yes
Prop 66 – No
Yes