UPDATE! On June 5, 2015, CalSTRS cashed out of its investment in gun manufacturer Remington Firearms, part of the Cerberus Capital Management portfolio. We thank CalSTRS for listening to CFT. Read story in the Sacramento Bee.
Yesterday CFT members participated in two actions intended to push the California State Teachers Retirement System, (CalSTRS) to follow through on a commitment it made more than two years ago to divest holdings in the company that manufactured the assault weapon used to kill twenty six students and school staff in Sandy Hook Elementary School in Connecticut. (See press release.)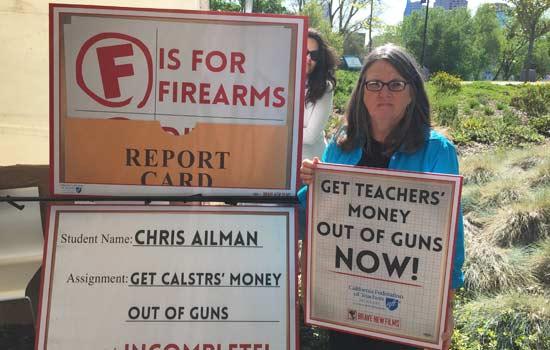 In Sacramento, CFT Secretary Treasurer Jeff Freitas was joined by Los Rios Community College faculty members Linda Sneed, Bill Miller, and Doug Orr, retiree Margaret Shelleda, and UC Davis student Brenda Medina in a "teach-in" outside of the CalSTRS building. The event featured lessons elating to divestment, pension obligations, the recent history of school gun violence, and the reading of a letter from seven families of Sandy Hook victims supporting CFT's call for CalSTRS to divest $375 million now from Cerberus Capital Management, which owns Freedom Group, the gun manufacturer.
"It is long past time for CalSTRS to finish what it started two years ago," said Freitas, to an audience that included CalSTRS's chief investment officer, Chris Ailman. Ailman later stated that he supported the action to divest, but that there were legal complications in doing so, causing the delay.
CFT partnered with Brave New Films to produce a short video, Gun-Free Retirement, on the effects of gun violence on the lives of CFT members. The video was shown during the teach-in. In addition, Medina read a long list of names of students who have been killed in school gun-related violence since the Sandy Hook massacre in 2012.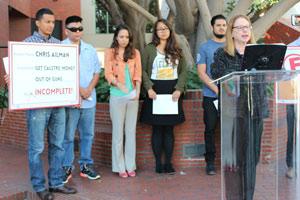 After the teach-in, the participants went inside to the CalSTRS Board meeting. There Freitas reiterated the remarks he made outside, saying, "Even if we took a loss, it would be the right thing to do." San Francisco City College retired teacher Ann Killebrew read the letter from Sandy Hook families. CalSTRS chairman Harry Keiley reaffirmed the commitment of CalSTRS to sell the portfolio, but said it won't occur "at the speed that some of us would like."
In Los Angeles, CFT and Brave New Films held a press conference outside the building housing Cerberus Capital Management. Faculty members from the Los Angeles Community College District, including AFT Local 1521 President Joanne Waddell, and students from the district, including Herlim Li, spoke at the press conference, along with Brave New Films' Robert Greewald. The group then attempted to deliver thousands of petitions, demanding that Cerberus sell Freedom Group, to the firm's office in the building.
The office door was locked, and no one answered repeated knocks. The teachers and students slipped the petitions under the door, as well as the list of students killed since Sandy Hook.