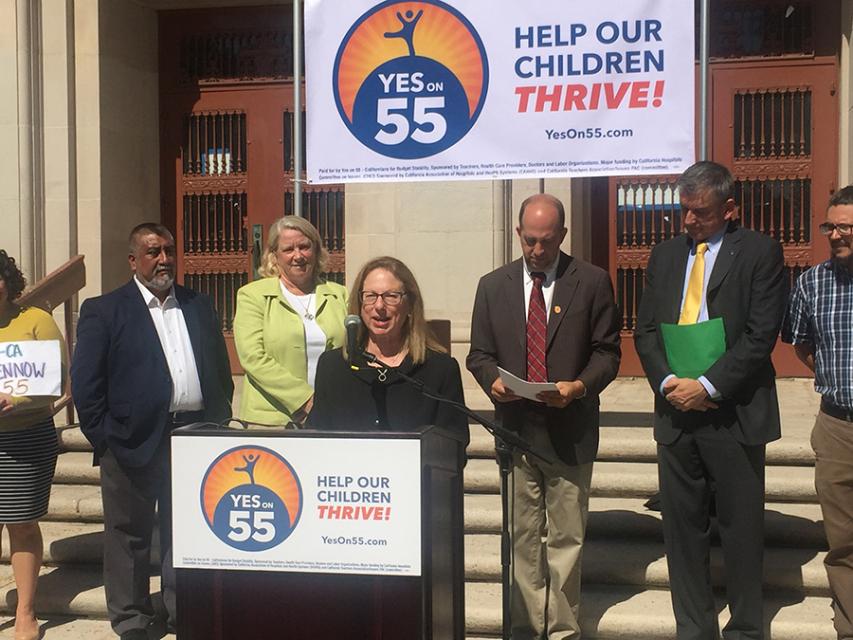 Supporters of Proposition 55, including educators, elected officials, parents and other community representatives, held a press conference in front of Hamilton High School in Los Angeles on August 15, kicking off the local campaign for the ballot initiative that will protect schools and students from losing up to $4 billion per year.
Speaking at the event were CFT President Joshua Pechthalt and AFT Local 1521 President Joanne Waddell, representing faculty in the Los Angeles Community College District, in addition to Steve Zimmer and George McKenna of the Los Angeles Unified Board of Education, CTA president Eric Heins, Celia Jaffe of the California State PTA, and others.
Prop 55 extends temporary Prop 30 tax on wealthy
Prop 55 would extend a temporary tax, Prop 30, passed by voters in 2012, for an additional 12 years.
Pechthalt, whose daughter is a high school student in LAUSD, said, "We are asking Californians to support extending Prop 30 by voting for Prop 55. Prop 30 has put more than 6 billion dollars in our schools a year. We estimate that Prop 55 will result in anywhere from 8 to 11 billion dollars. Those dollars are essential to making sure that California's students are educated well. That's not all we need to do, but it certainly is the beginning. My daughter depends on it, and her classmates depend on it."
Prop 55 will extend the modest Prop 30 state income tax increase on the richest Californians (singles who make $250,000 and up, and joint filers who make $500,000, pay an extra 1-3 percent) in order to continue restoring the thousands of education jobs lost during the Great Recession, and support the arts, physical education, and other programs students need.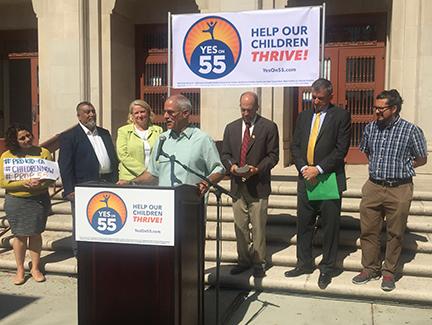 Said Pechthalt, "California has set about providing a different pathway for all the United States, asking people at the top end of the economic spectrum, the people who have done the best in this economy, to pay a bit more so that we all can thrive together. And it's been working. We can't afford to go back."
How Prop 30 restored community colleges
Waddell described the impact of the Great Recession on community colleges in Los Angeles: "The budget cuts forced us to cancel summer and winter sessions and reduce the number of classes offered so that it took students an extra year or two or three to complete their training, transfer, or graduate.
"We also had to cut essential services necessary for students to succeed, services like library hours, counseling, and tutoring. With the passage of Prop 30 in 2012, we slowly began the process of restoring the losses we suffered during the recession. As the budget continues to improve, enhanced counseling services will result in significant gains in student success – if," she cautioned, "they…are…maintained."

Budget forecasts show that unless voters extend the taxes on the wealthy, which would continue to bring in an average of $8 billion in annual revenues, California public schools will lose nearly $4 billion in the first year alone.
A recent Public Policy Institute of California survey found that 64 percent of voters support extending the income tax rates on the wealthiest individuals and couples to spare education and other vital services from a repeat round of devastating budget cuts.