The 74th annual CFT convention, held in San Francisco and attended by nearly 700 delegates and guests, got off with a bang two hours after the convention began on Friday morning, March 11. That's when about half the convention delegates piled outside into a light rain and demonstrated in support of affordable, quality public education and the struggle of City College of San Francisco faculty for a decent contract in the face of its accreditation crisis.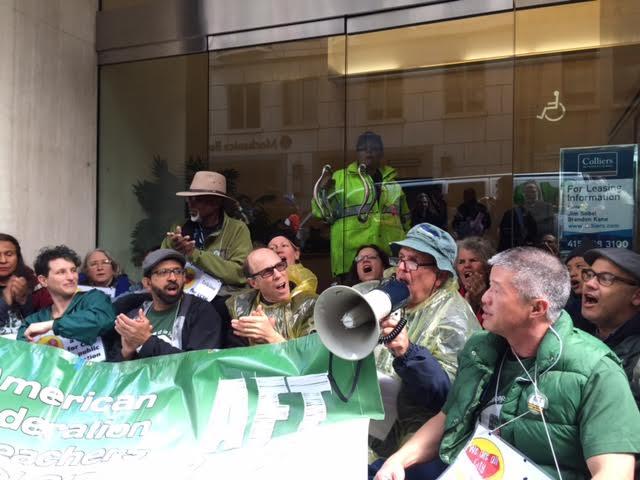 The delegates marched a half dozen blocks to the law offices of the chief negotiator for City College of San Francisco administration, formed a huge picket line, and circled and chanted as thirty of their number sat down, blocked the doors of the building, and got arrested. They were peacefully cited and released, in the process attracting widespread news coverage.
Said Malaika Finkelstein, a delegate from AFT 2121 and one of the volunteers to commit civil disobedience, "I feel energized by the convention. I'm proud to be part of a union that cares so deeply about social justice. It showed in our discussions, workshops, resolutions, and in our actions in the street."
"Activate Labor for Justice." A plenary panel discussion moderated by CFT vice-president Joanne Waddell on "Building Power" featured local CFT leaders Sergio Robledo-Maderazo, Amy Foote, and Zohara Kaye together with Texas AFT Secretary Treasurer Ray McMurrey, who brought the perspective of unionism from a right-to-work-for-less state. The latter presentation made clear that yes, unions can function in a right to work state, but public education is better off union-strong rather than union-free.
Emotional moments
Delegates heard from anti-racist activist Tim Wise, California attorney general and U.S. Senate candidate Kamala Harris (by video), and labor historian and climate justice organizer Jeremy Brecher. Each provided thoughtful commentary. But the stage was stolen by two moments of high emotion by CFT members themselves.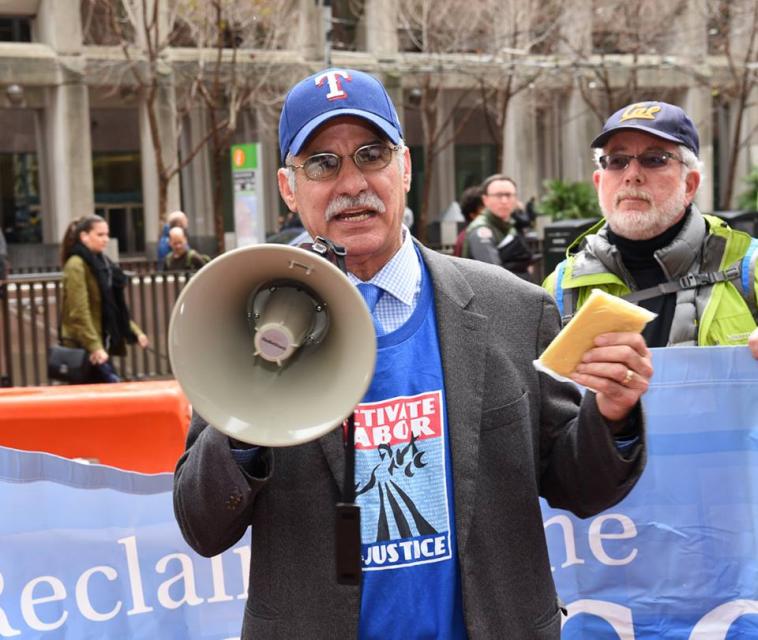 In the first, Morgan Hill Federation of Teachers leaders Theresa Sage and Gemma Abels were the co-recipients of the Women in Education Award. Sage, who is blind, spoke first, describing her local's successful fight against corporate charter takeovers in the Morgan Hill district. Abels, who was also deeply involved in that fight, talked graphically about her recent discovery of and struggle with stage four ovarian cancer. Tears flowed freely on stage and in the audience.
The same emotion bathed convention participants during CFT President Joshua Pechthalt's State of the Union address. In his wide-ranging speech, Pechthalt spoke of the growing threat to labor posed by billionaire-backed legal assaults and public campaigns vilifying teachers and public education. He thanked the delegates for passage of a special dues assessment to wage the court battles and their vote to increase per capita dues to strengthen the organizing and political work of the statewide union. When he began to speak about the need for a single payer health care system, referencing his own health issues that cost his family thousands of dollars, he had to stop. After he struggled twice more to continue, his daughter raced to the stage and hugged him as the crowd rose to its feet with a resounding standing ovation and solidarity clap.
Resolutions and policy
The five CFT resolution subcommittees debated 30 resolutions before sending the top three from each committee to the convention floor. Among them, Resolution 11 called for a return to free higher education for all. Resolution 29, debated after Jeremy Brecher's presentation on climate justice and unions, committed CFT to pursuing a climate justice agenda. And Resolution 30 established a task force to explore a new name for CFT, reflecting the changes in membership over the years from a mostly K-12 teacher organization to one representing a broader swath of education employment.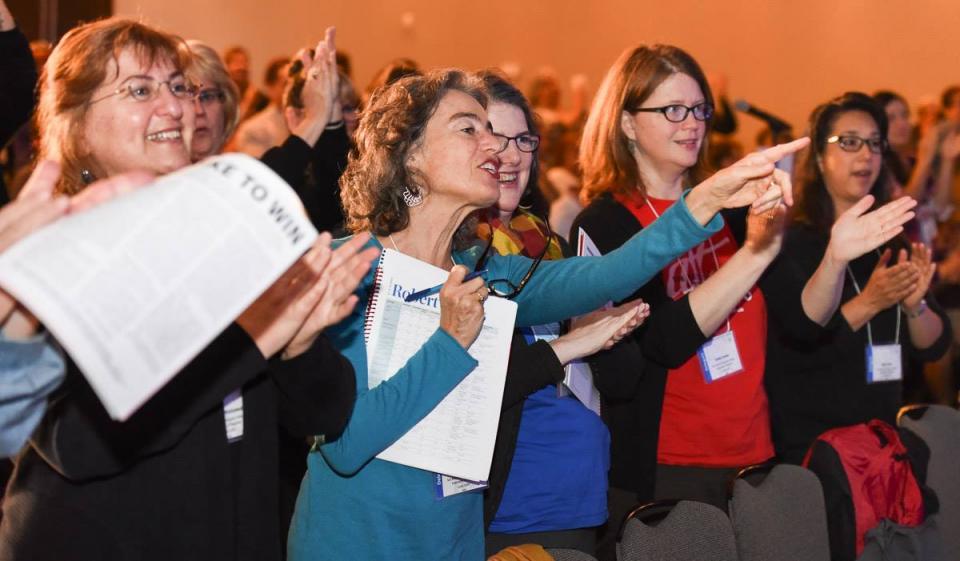 Workshops
Dozens of workshops on Friday and Saturday, led by CFT leaders and staff and outside experts brought educational policy and labor issues before the attendees.
Friday's workshops, offered in two banks, presented a large menu of diverse topics. These included recent developments in educational technology, reclaiming the promise of racial equity, retirement issues, and educating immigrant youth. Saturday's workshops focused on the CFT's Building Our Power program, providing skills and insights related to strengthening the union's capacities to organize, mobilize and especially defend our rights and public education itself in the face of the anti-union privatizing forces arrayed against us. The Friedrichs Supreme Court case, perhaps the most visible of the current attacks on labor and education, was but one of the many instances discussed.
Meetings, reports, awards
In addition to the statewide union, four division councils of CFT met, Secretary Treasurer Jeffery Freitas delivered a report on the union's finances, communications awards were handed out in an entertaining presentation by CFT staff Jane Hundertmark and Shannon Willson, the Legislator of the Year award was bestowed upon Assemblyman Jose Medina, and John Perez, now head of the CFT's retirees' division, a former UTLA leader, received the Ben Rust Award.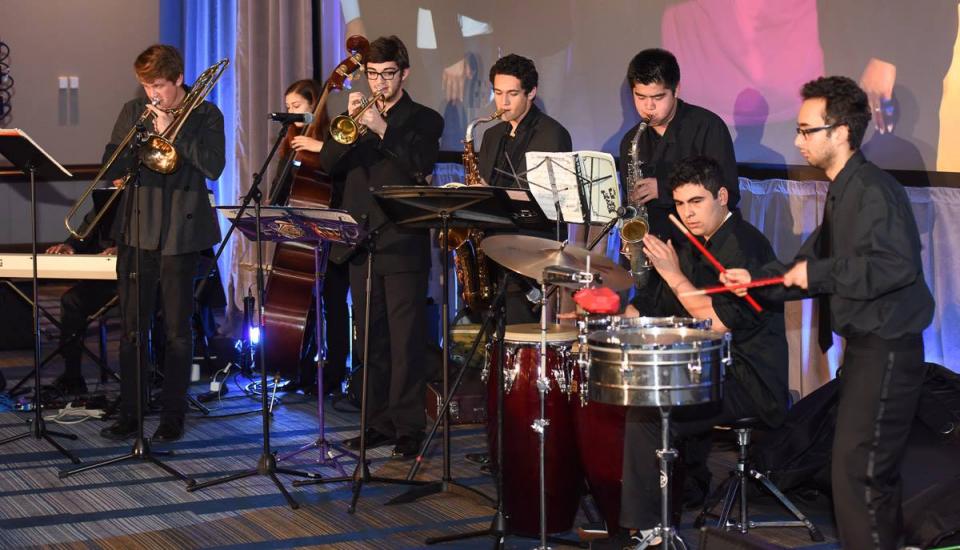 In short, as usual, the CFT convention provided an intense and revivifying experience for its hundreds of participants. As Oxnard high school teacher Ben Todd put it, "It was a weekend of important activities that truly tied in with the convention's theme, "Activate Labor for Justice." I am grateful for the opportunity to attend and represent my local."
See photos on the CFT's Facebook page. Videos on the need to extend Proposition 30, the battle for fair accreditation, and presentations by keynote speakers will be posted in this space soon.
News coverage
• "Teachers' protest jumpstarts major conference in San Francisco", California News Service
• "City College Faculty arrested in contract protest," Bay City News
• "CCSF educators arrested during sit-in protesting direction of contract talks," San Francisco Appeal