Legislators of the Year: Lorena Gonzalez Fletcher and Connie Leyva
Community College Council President Jim Mahler first met Assemblywoman Lorena Gonzalez Fletcher (D-San Diego) when she worked in Lt. Gov. Cruz Bustamante's office. She supported labor then, and she supports it now, he said, advocating for International Workers' Day and passing paid sick leave for all workers.
"She's been our friend, strong ally and go-to person," Mahler said when introducing Fletcher, one of the women to win this year's Legislator of the Year Award.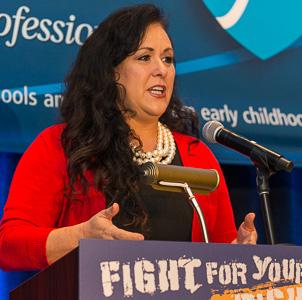 Gonzalez Fletcher began her speech by noting it was the 107th anniversary of the Triangle Shirtwaist Fire, where 146 garment workers died from fire, smoke inhalation or jumping to their deaths since owners had locked the doors to stop workers from taking breaks. These deaths, which sparked laws to protect workers' safety, were caused by corporate greed Gonzalez Fletcher said, and though we may not be locking garment workers inside factories, we still need to guard against corporations putting profits above workers' rights.
"The work you do today is no less important than it was 100 years ago," she said. "We need to fight back against corporate interests and for every worker who has lost their life or livelihood."
CFT President Joshua Pechthalt introduced state Senator Connie Leyva (D-Chino), the other winner of the award. Pechthalt has a personal connection to Leyva – their daughters both play college softball – and when he has an issue related to labor, he texts her, and she always gets back to him, he said.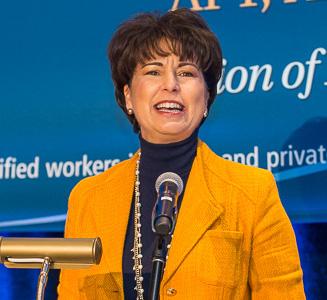 "There's no better place to be on a Sunday morning than in a house of labor," Leyva told the attendees. "I love stirring it up a little bit."
Leyva said she wants to be the legislator who negotiates for defined benefit pensions and contracts, and that she cares about the issues CFT members care about. She mentioned how inspired she is by the students of Marjory Stoneman Douglas High School, who have been advocating for gun control after a mass shooting at their school.
"I appreciate all of you and what you do educating the young people who are going to change the world that we screwed up," she said.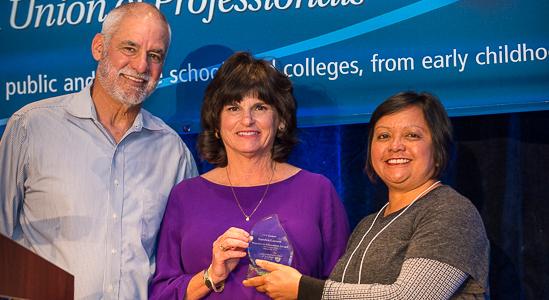 Women in Education Award: Sandra Larsen, Petaluma Federation
A woman's place is in her union, Morgan Hill Federation of Teachers PresidentGemma Abels told attendees at the CFT Convention before introducing this year's winner of the Women in Education Award, Sandra Larsen, president of the Petaluma Federation of Teachers, who led a successful strike last spring, the first in the union's history.
"Sandra Larsen is a strong woman, a passionate unionist and a compassionate educator," Abels said, telling the crowd that Larsen's father was in the union for letter carriers in Richardson, Texas, where she grew up. "She taught home economics and science and life skills at Petaluma Junior High, which we all know means she is a saint."
Larsen went from treasurer to chief negotiator to president of her union, Abels said, and her mobilization of the members ended in a 3.5 percent raise. Larsen also fought for them in the courts, filing two unfair labor practices.
Larsen, who had just turned 60, said she was raised in the South to be sweet –– but she wanted more respect and better pay for her members, so she spoke up.
"Sometimes you need to stand up and step out of your comfort zone and do what's right," she said. "CFT came in right away and helped us set small goals, like getting 50 people to a school board meeting and our strength grew."
The union built support in the community, Larson said, so when they asked parents for help – to make calls or show up to meetings – they would do it.
"When it became clear it was time to call a one-day strike, 95 percent of members participated," Larson said. "If a 60-year old woman born in Richardson, Texas, can do it, anyone can."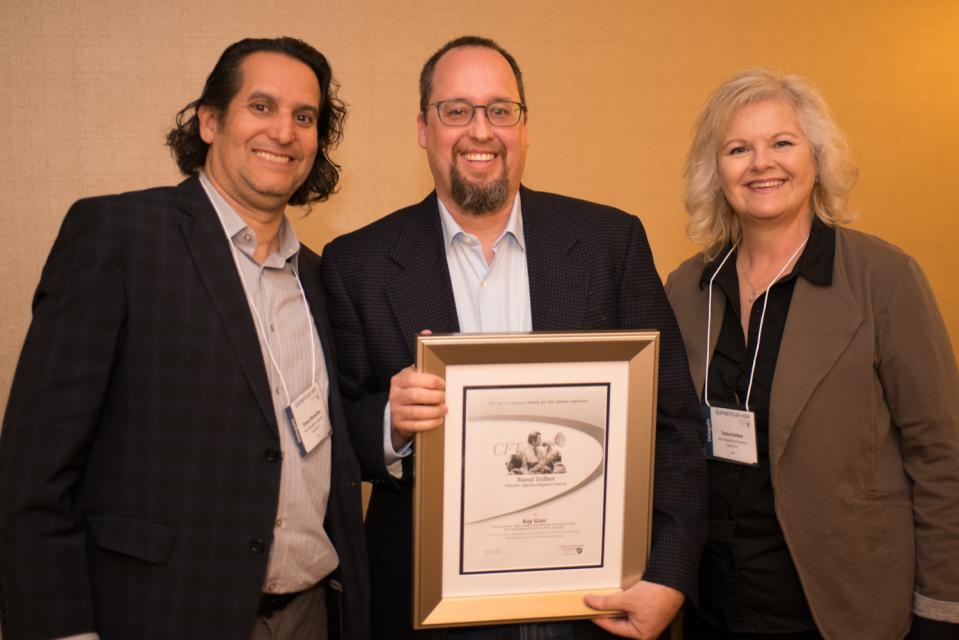 Raoul Teilhet Award: Ray Gaer, ABC Federation
Becoming president of the ABC Federation of Teachers after the legendary Laura Rico – known for leading a successful eight-day strike in 1993 and serving as a vice president of the CFT, the AFT and the AFL-CIO simultaneously – meant people had some pretty high expectations of him, said Ray Gaer, current president.
"Everybody said Laura Rico left huge shoes to fill," Gaer said. "How do you fill them as one person? You can't – it takes a team."
Gaer, who was being honored with the Raoul Teilhet "Educate, Agitate, Organize" Award, compared himself to an orchestra leader who needs good players – and singled out leaders Ruben Mancillas and Tanya Golden.
A sign hangs on the back of his door, Gaer said, so people see it when they're leaving his office. It says "What have you done for members today?" That's what drives him, Gaer said. One thing he wants to do is let members know what the union is up to.
"Communication is that secret sauce for ABC," said Gaer, who says they have learned from the fliers and newsletters of their retiree chapter. "Communication is where it's at. I tell everyone to talk to other people and tell them what we're doing to help their lives. Say something positive about the union – they're not hearing it on their TVs."
QUICK TAKES
Communications Awards: About two dozen local unions took home awards for their explemary communication efforts in 2017.
Organizing and Political Awards: Numerous locals won awards for their political advocacy and for significant increases in membership.