Classified Conference – ONLINE
Our 2020 event is virtual — and free!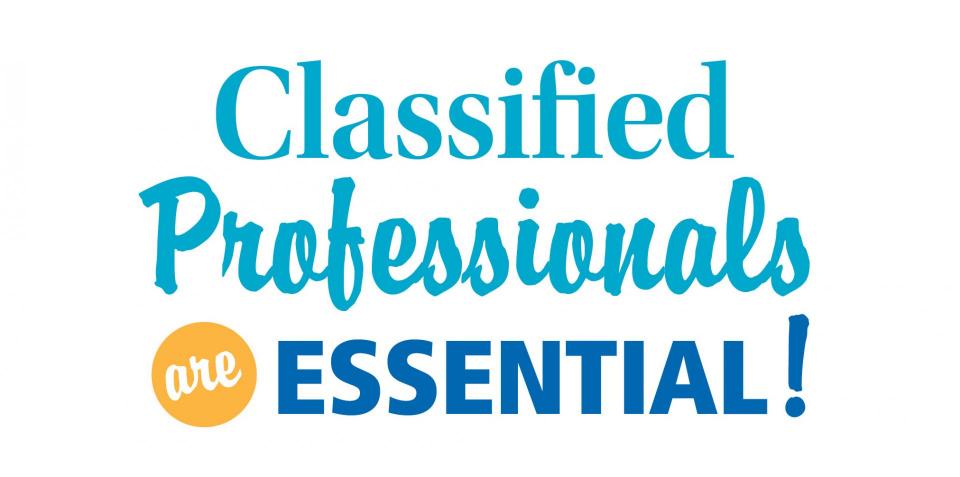 Due to the coronavirus pandemic, we have shifted our annual Classified Conference online, and streamlined it into a single Saturday afternoon. You can still attend workshops on a variety of professional issues — and even join in a happy hour during the closing session — all without leaving home. The conference is also free for the first time ever; there is no registration fee.
With a theme of "Classified Professionals are Essential!," our annual conference promises learning and fun — please join us online this year!
Register Your Attendance
There is no registration fee — the online conference is free to attendees.
Registrants will be emailed the Zoom link prior to the start of the conference.
Tentative Schedule
SATURDAY, NOVEMBER 14
12 pm President's Collaboration
1 pm Opening Session
2 pm Workshops
3 pm Workshops
4:15 pm Closing session
5:15 pm Conference concludes
Workshops + Learning
Local President's Collaboration: Before the conference begins at 1 pm, local presidents from constituent unions of the Council of Classified Employees are invited to attend a seminar to hear updates on current issues and get to know one another. The collaboration runs from 12 pm to 12:45 pm.
Workshops: Two sets of workshops will offer professional learning opportunities on a wide range of topics, including several that will be COVID-related. Once the workshop topics are finalized, you will be asked to register in advance for the purposes of logistics.
Closing Session & Happy Hour
Hear from more guest speakers and look forward to closing with an online happy hour, more social activity, and prize drawings. CCE social events bring out the best in classified employees!
For More Information
If you have questions about the Classified Conference, please email Rebecca Perez.