General Election 2016
CFT endorses Hillary Clinton for U.S. President, Kamala Harris for U.S. Senate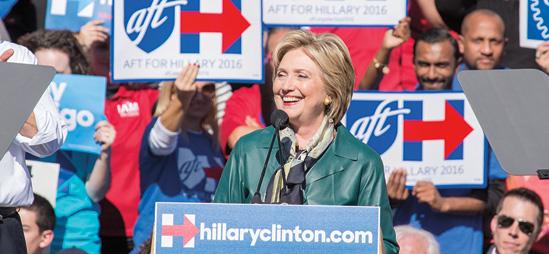 The AFT and the CFT have endorsed Hillary Clinton for President of the United States. In vision, experience and leadership, she is the candidate we need in the White House. Clinton is a tested leader who has fought for the issues most important to AFT members and our communities as a U.S. Senator from New York with a 100 percent AFT voting record, and as U.S. Secretary of State.
As president, Clinton will fight to ensure a stronger, fairer economy that works for everyone, not just those at the top, while advancing racial justice and equity for all. She will fight for strong public schools; to make higher education free for more students; to protect and build on the Affordable Care Act; and to to safeguard our retirement security and the right of strong unions to bargain collectively.
Kamala Harris is the educators' choice
For the first time in 24 years Californians will fill an open U.S. Senate seat and the CFT has endorsed Attorney General Kamala Harris for that office. As the state's top attorney, Harris has taken the lead on issues important to educators, working to reduce elementary school truancy and set young students on the path to educational success. She created the Bureau of Children's Justice to protect our state's youth. And she fought the big banks during the foreclosure crisis to defend the communities in which we live and work.
Read more about CFT's top endorsements in California Teacher.
Your vote for progressives is important
In California, several progressive candidates are in tight races for legislative seats. If you live in these regions, your vote for these education-friendly candidates is particularly important.
CALIFORNIA SENATE
District 3 Mariko Yamada
District 9 Nancy Skinner
District 11 Jane Kim
District 15 Jim Beall
District 25 Anthony Portantino
District 35 Warren Furutani
CALIFORNIA ASSEMBLY
District 14 Mae Torlakson
District 27 Ash Kalra
District 30 Karina Cervantez Alejo
District 43 Ardy Kassakhian
District 65 Sharon Quirk-Silva
Union endorsements online and in print
- Get endorsements on your phone, tailored to your local ballot, from The Educators Choice online voter guide.
- Download the CFT Endorsement Sheet containing the union's recommendations for Congressional and California legislative races, or find them here in our Endorsements section.
U.S. PRESIDENT
Hillary Clinton
U.S. SENATE
Kamala Harris
U.S. CONGRESS
CD 2 Jared Huffman*
CD 4 Bob Derlet
CD 5 Mike Thompson*
CD 6 Doris Matsui*
CD 9 Jerry McNerney*
CD 10 Michael Eggman
CD 11 Mark DeSaulnier*
CD 12 Nancy Pelosi*
CD 13 Barbara Lee*
CD 14 Jackie Speier*
CD 15 Eric Swalwell*
CD 17 Mike Honda*
CD 18 Anna Eshoo*
CD 19 Zoe Lofgren*
CD 20 Jimmy Panetta
CD 21 Emilio Huerta
CD 24 Salud Carbajal
CD 25 Bryan Caforio
CD 27 Judy Chu*
CD 28 Adam Schiff*
CD 29 Tony Cárdenas*
CD 30 Brad Sherman*
CD 32 Grace Napolitano*
CD 33 Ted Lieu*
CD 34 Xavier Becerra*
CD 35 Norma Torres*
CD 37 Karen Bass*
CD 38 Linda Sánchez*
CD 40 Lucille Roybal-Allard*
CD 41 Mark Takano*
CD 43 Maxine Waters*
CD 44 Isadore Hall, III
CD 47 Alan Lowenthal*
CD 51 Juan Vargas*
CD 53 Susan Davis*
CALIFORNIA SENATE
SD 3 Mariko Yamada
SD 5 Cathleen Galgiani*
SD 9 Nancy Skinner
SD 11 Jane Kim
SD 13 Jerry Hill*
SD 15 Jim Beall*
SD 17 Bill Monning*
SD 19 Hannah-Beth Jackson*
SD 21 Johnathon Ervin
SD 25 Anthony Portantino
SD 27 Henry Stern
SD 29 Josh Newman
SD 31 Richard Roth*
SD 33 Ricardo Lara*
SD 35 Warren Furutani
SD 39 Toni Atkins
CALIFORNIA ASSEMBLY
AD 2 Jim Wood*
AD 3 Edward Ritchie
AD 7 Kevin McCarty*
AD 8 Ken Cooley*
AD 9 Jim Cooper*
AD 11 Jim Frazier, Jr.*
AD 13 Susan Eggman*
AD 14 Mae Torlakson
AD 15 Tony Thurmond*
AD 16 Cheryl Cook-Kallio
AD 17 David Chiu*
AD 18 Rob Bonta*
AD 19 Phil Ting*
AD 20 Bill Quirk*
AD 21 Adam Gray*
AD 22 Kevin Mullin*
AD 25 Kansen Chu*
AD 27 Ash Kalra
AD 28 Evan Low*
AD 29 Mark Stone*
AD 30 Karina Cervantez Alejo
AD 31 Joaquin Arambula
AD 32 Rudy Salas*
AD 35 Dawn Ortiz-Legg
AD 37 Monique Limón
AD 38 Christy Smith
AD 40 Abigail Medina
AD 41 Chris Holden*
AD 42 Greg Rodriguez
AD 43 Ardy Kassakhian
AD 44 Jacqui Irwin*
AD 45 Matt Dababneh*
AD 46 Adrin Nazarian*
AD 47 Cheryl Brown*
AD 48 Blanca Rubio
AD 49 Edwin Chau*
AD 50 Richard Bloom*
AD 51 Jimmy Gomez*
AD 52 Freddie Rodriguez*
AD 53 Miguel Santiago*
AD 54 Sebastian Ridley-Thomas*
AD 57 Ian Calderon*
AD 58 Cristina Garcia*
AD 59 Reginald Jones-Sawyer*
AD 60 Sabrina Cervantes
AD 61 Jose Medina*
AD 63 Anthony Rendon*
AD 64 Michael Gipson*
AD 65 Sharon Quirk-Silva
AD 66 Al Muratsuchi
AD 69 Tom Daly*
AD 70 Patrick O'Donnell*
AD 77 Melinda Vasquez
AD 78 Todd Gloria
AD 79 Shirley Weber*
AD 80 Lorena Gonzalez*
STATE PROPOSITIONS
Proposition 53 – No
Proposition 54 – No
Proposition 55 – Yes
Proposition 57 – Yes
Proposition 58 – Yes
Proposition 59 – Yes
Proposition 62 – Yes
Proposition 63 – Yes
Proposition 66 – No
Paid for by California Federation of Teachers COPE and California Federation of Teachers COPE Prop./Ballot Committee. Not authorized by a candidate or a committee controlled by a candidate.