General Election 2014
CFT endorses Brown for Governor, Torlakson for State Superintendent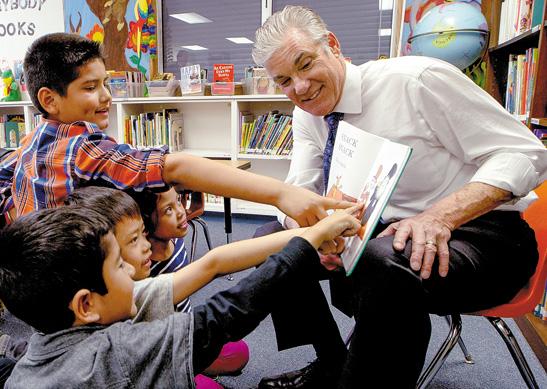 New technology has made it possible for CFT to offer a custom electronic slate card — with candidates and ballot issues relevant to you, based on where you live. Go to The Educators' Choice and type in your address. A page tailored to your individual ballot will load, with endorsed candidates ranging from California governor to your local school and college board trustees.
Below is the complete list of state and federal races in which CFT has endorsed. Candidate names followed by an asterisk (*) indicate incumbents.
Download the union's endorsement on a single easy-to-read sheet.
Statewide Offices
Governor Jerry Brown*
Lieutenant Governor Gavin Newsom*
Attorney General Kamala Harris*
Treasurer John Chiang
Controller Betty Yee
Secretary of State Alex Padilla
Superintendent of Public Instruction Tom Torlakson*
Insurance Commissioner Dave Jones*
Board of Equalization, District 1 Chris Parker
Board of Equalization, District 2 Fiona Ma
Board of Equalization, District 4 Jerome Horton*
*Incumbent
Statewide Ballot Measures
1 – YES Conserve water resources
Water bond addresses drought by increasing funding for water storage projects and watershed restoration
2 – NEUTRAL Rainy Day Fund
Reduces state funds available for programs in "good years." If enacted, the state will cap
K-12 district reserves, freeing up additional resources in some districts.
45 – YES Pre-approval of health insurance increases
Requires insurance companies to justify premium increases and obtain pre-approval for rate hikes
46 – NEUTRAL Medical malpractice
Increases awards for malpractice and requires doctors to be drug tested
47 – YES Sensible sentencing reform
Reduces sentences for certain nonviolent crimes and invests savings in treatment programs
48-YES Confirms Indian gaming compacts
Ratifies contracts negotiated between the state and tribes
Measure L - NO (Sacramento only)
California Assembly
AD 2 Jim Wood
AD 4 Bill Dodd
AD 7 Kevin McCarty
AD 8 Ken Cooley*
AD 9 Darrell Fong
AD 10 Marc Levine*
AD 11 Jim Fraizer, Jr.*
AD 12 Harinder Grewal
AD 13 Susan Talamantes Eggman*
AD 14 Susan Bonilla*
AD 15 (Dual) Elizabeth Echols and Tony Thurmond
AD 16 Tim Sbranti
AD 17 David Campos
AD 18 Rob Bonta*
AD 19 Phil Ting*
AD 20 Bill Quirk*
AD 21 Adam Gray*
AD 22 Kevin Mullin*
AD 24 Richard Gordon*
AD 25 Kansen Chu
AD 27 Nora Campos*
AD 28 Evan Low
AD 29 Mark Stone*
AD 30 Luis Alejo*
AD 31 Henry Perea*
AD 32 Rudy Salas*
AD 36 Steve Fox*
AD 37 Das Williams*
AD 39 Raul Bocanegra*
AD 41 Chris Holden*
AD 43 Mike Gatto*
AD 44 Jacqui Irwin
AD 45 Matt Dabahneh*
AD 46 Adrin Nazarian*
AD 47 Cheryl Brown*
AD 48 Roger Hernandez*
AD 49 Edwin Chau*
AD 50 Richard Bloom*
AD 51 Jimmy Gomez*
AD 52 Freddie Rodriguez*
AD 53 Miguel Santiago
AD 54 Sebastian Ridley-Thomas*
AD 57 Ian Calderon*
AD 58 Cristina Garcia*
AD 59 Reginald Jones-Sawyer*
AD 61 Jose Medina*
AD 63 Anthony Rendon*
AD 64 Michael Gipson
AD 65 Sharon Quirk-Silva*
AD 66 Al Muratsuchi*
AD 69 Tom Daly*
AD 70 Patrick O'Donnell
AD 78 Toni Atkins*
AD 79 Shirley Weber*
AD 80 Lorena Gonzalez*
California Senate
SD 2 Mike McGuire
SD 6 Richard Pan
SD 10 Bob Wieckowski
SD 12 Anthony Canella*
SD 14 Luis Chavez
SD 18 Robert Hertzberg
SD 20 Connie Leyva
SD 22 Ed Hernandez*
SD 24 Kevin De Leon*
SD 26 Sandra Fluke
SD 30 Holly Mitchell*
SD 32 Tony Mendoza
SD 34 Jose Solorio
SD 40 Ben Hueso*
U.S. Congress
CD 2 Jared Huffman*
CD 3 John Garamendi*
CD 5 Mike Thompson*
CD 6 Doris Matsui*
CD 7 Ami Bera*
CD 9 Jerry McNerny*
CD 10 Michael Eggman
CD 11 Mark DeSaulnier
CD 12 Nancy Pelosi*
CD 13 Barbara Lee*
CD 14 Jackie Speier*
CD 15 Eric Swalwell*
CD 16 Jim Costa*
CD 17 Mike Honda*
CD 18 Anna Eshoo*
CD 19 Zoe Lofgren*
CD 20 Sam Farr*
CD 21 Amanda Renteria
CD 24 Lois Capps*
CD 26 Julia Brownley*
CD 27 Judy Chu*
CD 28 Adam Schiff*
CD 29 Tony Cardenas*
CD 30 Brad Sherman*
CD 31 Pete Aguilar
CD 32 Grace Napolitano*
CD 33 Ted Lieu
CD 34 Xavier Becerra*
CD 35 Norma Torres
CD 36 Raul Ruiz*
CD 37 Karen Bass*
CD 38 Linda Sanchez*
CD 40 Lucille Roybal-Allard*
CD 41 Mark Takano*
CD 43 Maxine Waters*
CD 44 Janice Hahn*
CD 46 Loretta Sanchez*
CD 47 Alan Lowenthal*
CD 51 Juan Vargas*
CD 52 Scott Peters*
CD 53 Susan Davis
Paid for by California Federation of Teachers COPE and California Federation of Teachers COPE Prop./Ballot Committee. Not authorized by a candidate or a committee controlled by a candidate.