Adult & Career Technical Education Committee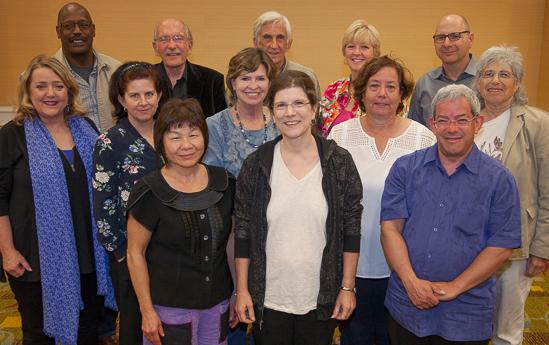 The purpose and goals of the CFT Adult & Career Technical Education Committee are:
to identify and monitor issues and activities relating to adult education and Career Technical Education (CTE) at the California Department of Education, the Community College Chancellor's Office, and other appropriate bodies;
to monitor statutes and regulatory policies that govern adult education and CTE and participate in state, federal, and organizational initiatives advancing their status;
to advocate for those CFT members involved in adult education and CTE;
to make policy recommendations concerning adult education and CTE to the Executive Council, State Council, and Convention;
to present reports to CFT governance bodies;
to communicate CFT positions related to adult education and CTE, keeping Federation locals and members informed concerning such issues through articles for CFT publications and website resources;
to track and analyze legislation related to adult education and CTE, assist in crafting legislative actions and making recommendations, and testify on behalf of the CFT before state and federal legislative bodies;
to assist in organizing adult education employees into the Federation;
to promote quality adult education and CTE programs available to all students.
HELPFUL LINKS
Adultedbudgetcuts is a wiki site that provides a current feed of articles about adult education. The wiki also catalogs the devastating state budget cuts for adult education during the years 2009 through 2013 and what they meant in individual districts. 
Committee Members
Matt Kogan, Chair, United Teachers Los Angeles
Martha Bauer, Lompoc Federation of Teachers
Glennis Cameron, San Jose Federaton of Teachers
Michelle Cohen, United Teachers Los Angeles
Kathy Grammer, Glendale College Guild
Darryl Issac, Coast Federation of Educators
Kathy Jasper, San Jose/Evergreen Federation of Teachers
Darlene Johnson, Oxnard Federation of Teahers & School Employees
Rachelle Kandalaft, ABC Federation of Teachers
Stephanie Kriebel, San Mateo Adult School Federation of Teachers
Thomas Lawson, Salinas Valley Federation of Teachers
Oranit Limmaneeprasert, Los Rios College Federation of Teachers
Mel Martynn, Berkeley Federation of Teachers
Jean Rose, ABC Federation of Teachers
Susan Schacher, Peralta Federation of Teachers
Rosemarie Shamieh, Glendale College Guild
Zev Kvitky, Staff Liaison