About Unemployment Insurance During the Pandemic
California to extend benefits after expiration of CARES Act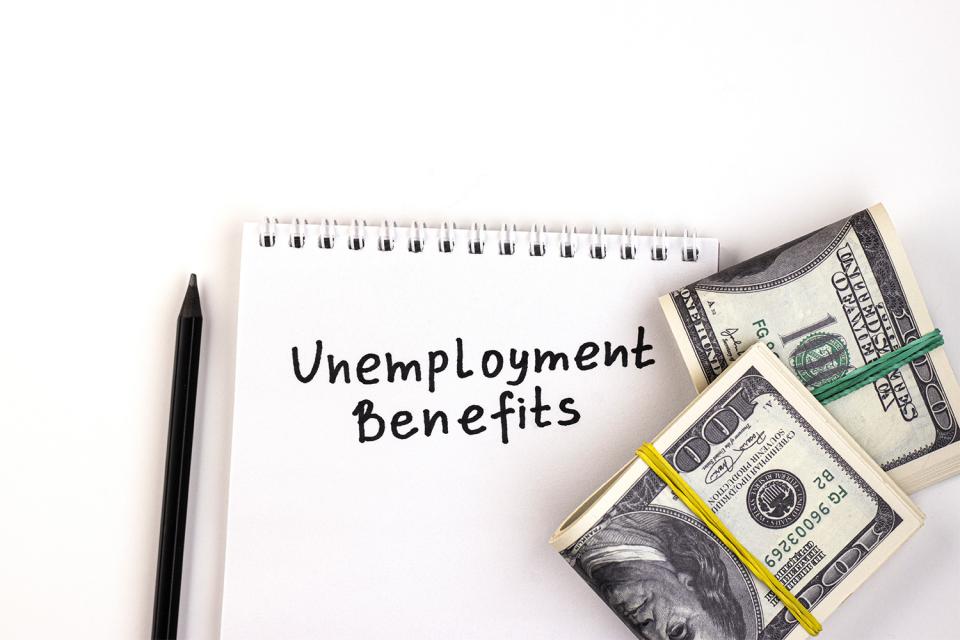 This information is provided as a service to our members for informational purposes. It is not a substitute for professional legal or financial advice.
Updates
The following changes have occurred while Congress struggles to negotiate another stimulus package to extend the benefits of the CARES Act. Register your support with AFT for Congress to provide more assistance with the enormous losses caused by the pandemic – and pass the HEROES Act!
August 22, 2020 — EDD
California's application was approved for the federal Lost Wages Assistance program, which will provide an extra $300 a week to anyone receiving at least $100 a week in regular state or federal unemployment benefits, the Employment Development Department announced. The state will receive an initial amount of $4.5 billion, with the possibility of additional funding.
The $300 a week supplement will be available for a minimum of three weeks, retroactive to Aug. 1, to people who are "currently eligible to receive at least $100 per week in benefits, and who have provided a self-certification that they are unemployed or partially unemployed due to disruptions caused by COVID-19," the department said.
July 1, 2020 — EDD
Jobless Californians could get up to seven additional weeks of unemployment benefits, bringing the maximum duration to 59 weeks for those on regular state unemployment and 46 weeks for those receiving Pandemic Unemployment Assistance, according to the Employment Development Department.
The extra seven weeks brings it to 46, but these benefits cannot be paid after December 26 in California, even if someone has not collected the full 46 weeks.
June 22, 2020 — CFT
The CFT has been contacted by members having problems reopening their claims. Due to the overwhelming number of unemployment claims being submitted during this time, there is a technical issue with the online system that results in some submissions disappearing. If this happens to you, do not resubmit your claim. Instead contact EDD by phone at (800) 300-5616 or send a message through UI Online.
If you have already attempted to contact EDD but are unable to reach them, we recommend you contact your California assemblymember for assistance. Most representatives have liaisons to help with EDD-related issues. If you need to know the name of your assemblymember, you may search by zip code here.
CARES Act: One-time federal stimulus checks
First, we want to recap the intent of the federal "stimulus" checks that are part of the Coronavirus Aid, Relief, and. Economic Security Act, or CARES Act. These are one-time payments to qualifying individuals and separate from Unemployment Insurance.
Stimulus payments are available for individuals earning up to $75,000 a year, with a tapering down of the amount available for annual earnings up to $99,000. For heads of household, payments are available for incomes up to $112,500, and for joint filers up to $150,000.
The one-time payment is $1,200 per individual, $2,400 for married couples, and $500 for each child aged 16 or under.
You must have filed a tax return to receive the stimulus payment. The federal government will base the amount you receive on your 2018 return if it's on file. If you file your 2019 taxes right away and update your direct deposit info, it may speed up your payment.
The federal checks will arrive in 2-8 weeks and distribution began mid-April. If you choose direct deposit, you will get the money faster; if the check is mailed to the address on your previous tax return, it will take longer to arrive.
You will receive a letter saying where and when you will receive the benefit. If you don't receive the letter, contact the IRS.
The stimulus money is tax free.
Social Security and disability recipients are included.
All wage garnishments, except child support, will stop.
CARES Act: Rent and mortgage relief
The CARES Act includes the following relief measures for some renters and mortgage holders. However, the relief described below is only available to people if the mortgages on property are backed by federal agencies such as Freddie Mac or Fannie Mae.
Suspends all evictions through July 2020 for failure to pay rent
(Additionally, in California, through the governor's executive order, evictions are suspended through May 31 if non-payment is COVID-19 related.)
Eliminates penalties or late fees for failure to pay rent during this period
Allows 6-month forbearance on mortgage payments
Allows 90-day grace period for all mortgage payments (work with your bank or loan provider)
Bans foreclosures or evictions for 60+ days
Waives mortgage-related late fees for 90+ days
CARES Act: Retirement savings hardship withdrawals
The CARES Act allows individuals to take out a temporary loan against their retirement savings through these relief measures:
Employees may withdraw up to $100,000
Eliminates 10 percent penalty if you are younger than 59.5 years old
Applies to 401k, 403b, IRA, and most defined contribution plans
Employees may 'self-attest' to financial crisis
Gives you three years to repay the loan, or to pay taxes on withdrawn amount
Extends repayment of (similar) existing retirement loans by one year
CARES Act: Pandemic Unemployment Assistance (PUA)
The CARES Act funds a new type of unemployment insurance, relief that will be provided in addition to a state's regular unemployment benefit. In California, the governor waived the one-week waiting period, and the state has directed EDD to pay claims before final eligibility has been determined. Please note: Those who can telework or who are receiving paid leave are not eligible.
Pandemic Unemployment Assistance (PUA) offers the following relief:
Adds $600 per week to the Unemployment Insurance benefit, which in California is a maximum of $450 per week.
The additional federal benefit of $600 per week lasts lasts four months, from March 29 through July 25.
Extends benefits at your regular benefit rate for an additional 13 weeks.
Extends eligibility to:
– Gig workers and the self-employed
– Part-time or furloughed workers
– Newly employed workers
– Those unable to work due to COVID-19
CARES Act definition of: "Those unable to work due to COVID-19"
Those diagnosed with COVID-19 or those with symptoms awaiting diagnosis (may also be eligible for State Disability Insurance –SDI)
Those having a household member diagnosed with COVID-19 (may also be eligible for SDI)
Those providing care for a family or household member diagnosed with COVID-19 (may also be eligible for Paid Family Leave)
Being a primary caregiver for a child whose school or childcare facility is closed due to COVID-19
Being unable to reach your workplace due to an imposed quarantine, or being advised by a healthcare provider to self-quarantine (may also be eligible for SDI)
Those about to start new employment and were unable to begin a new job because of COVID-19
Becoming a breadwinner because the head of household died of COVID-19
Those who had to quit their job as a direct result of COVID-19
Those whose workplaces are closed as a direct result of COVID-19
Unemployment Insurance: "Normal" eligibility criteria
The eligibility criteria to receive unemployment benefits in California during "normal times" are listed below. Those followed by an asterisk (*) have been modified or waived under Pandemic Unemployment Assistance in the federal CARES Act.
Have received enough wages during the base period to establish a claim*
Be totally or partially unemployed
Be unemployed through no fault of the employee's own
Be physically able to work
Be available for work*
Be ready and willing to immediately accept work*
Be actively looking for work*
Be approved for training before training benefits can be paid
Biweekly certification requirements
Physically able to work
Available for work*
Ready and willing to immediately accept work *
Actively looking for work each week benefits are claimed*​
Certification for weeks ending March 14 to May 9
Based on the persistent inability of claimants to access the UI Online system during this time period, if your UI benefit certification form has dates for weeks ending March 14 through May 9, you do not need to certify or recertify for UI payments at this time. For those weeks, this means:
After you initiate your UI claim and are determined eligible, you do not need to provide certification for your continuing biweekly payments for these weeks if you have not already done so.
You will automatically receive your benefit payments, unless you have an existing disqualification or pending issue.
You will be required to provide information to the EDD if you worked during any of these weeks.
The failure to provide the EDD with information that you worked during these weeks may result in an overpayment that the EDD must later recover.
If you worked during these weeks, you need to report that work through the Ask EDD website.
Select Unemployment Insurance Benefits, then Payments, and then EDD Paid Me and I Returned to Work, Need to Report Wages.
For part-time faculty: Know the Cervisi decision
"Normal" unemployment allowance for part-time faculty and temporary certificated employees
Working with the CFT, the San Francisco Community College Federation of Teachers won a landmark legal victory in 1989 that provides unemployment benefits to many faculty members during layoffs.
In Cervisi v. California Unemployment Insurance Appeals Board the California Court of Appeals agreed with AFT Local 2121 that a teaching assignment contingent on enrollment, funding, program changes or bumping by a full-time faculty member is not a "reasonable assurance" of employment, and that part-time temporary instructors may therefore be eligible for unemployment benefits.
The Cervisi decision means that:
You are eligible even if you have been offered a class for next term.
You are eligible even if your name appears in the schedule of classes.
You are eligible even if you have signed next term's appointment letter.
Here's how the Cervisi decision reads in California Unemployment Insurance Code
1253.3 (g) "For the purpose of this section, 'reasonable assurance' includes, but is not limited to, an offer of employment or assignment made by the educational institution, provided that the offer or assignment is not contingent on enrollment, funding, or program changes."
How to apply for Unemployment Insurance & PUA
At present, there is a single application process for UI. The EDD alludes to a future separate application for PUA to be used only by those not normally eligible for UI benefits.
If you qualify for UI benefits, you will still receive the additional $600 per week payment and a 13-week benefit extension.
If you do not qualify for UI benefits, you can then be found eligible for PUA benefits. Like UI benefits, the amount is based on recent wages.
File your unemployment claim on the last in-class day of your last class of the semester, or your last day of paid work.
Pay attention to deadlines and file all of your forms in a timely manner. Be ready to answer phone calls or emails as soon as you receive them, and respond as quickly as possible.
How to file a claim online
This helpful video from EDD will get you off to a good start. It's 6 minutes well spent.
Go to the EDD Unemployment Insurance landing page and create a log-in.
Complete the online application fully.
When selecting information about your last employer, pay careful attention to the drop-down menus regarding the reason and explanation for being out of work.
Separation category: Depends upon your circumstance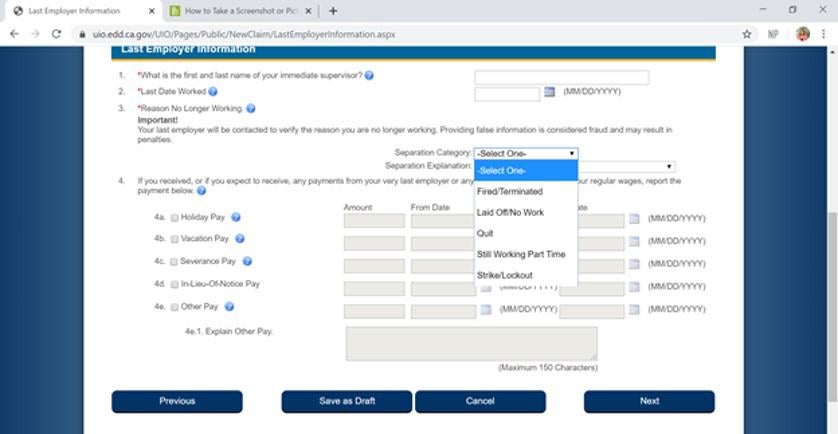 Separation explanation: Depends upon your circumstance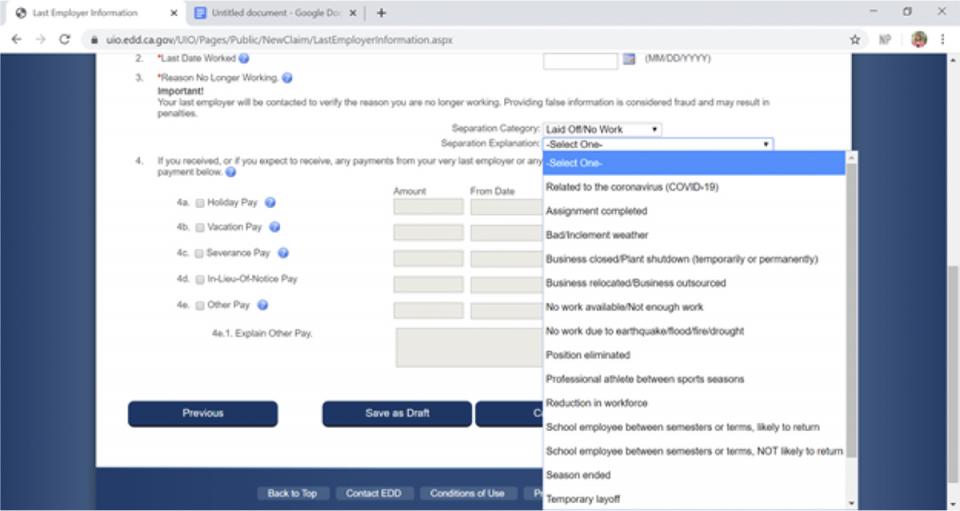 Tips for a successful EDD interview
The EDD has not yet announced changes to its interview process. In light of the vast expansion of eligibility under the CARES Act, changes can be expected. In the meantime, we recommend preparing for interviews as for normal unemployment claims.
Remember the Cervisi decision: Contingent faculty and temporary certificated employees can have classes taken away at any time due to enrollment, funding, or program changes.
For more information
Helpful info from the EDD
Helpful FAQ from the Labor and Workforce Development Agency
Get assistance from the union