Classified Conference
Annual event for paraprofessionals and classified employees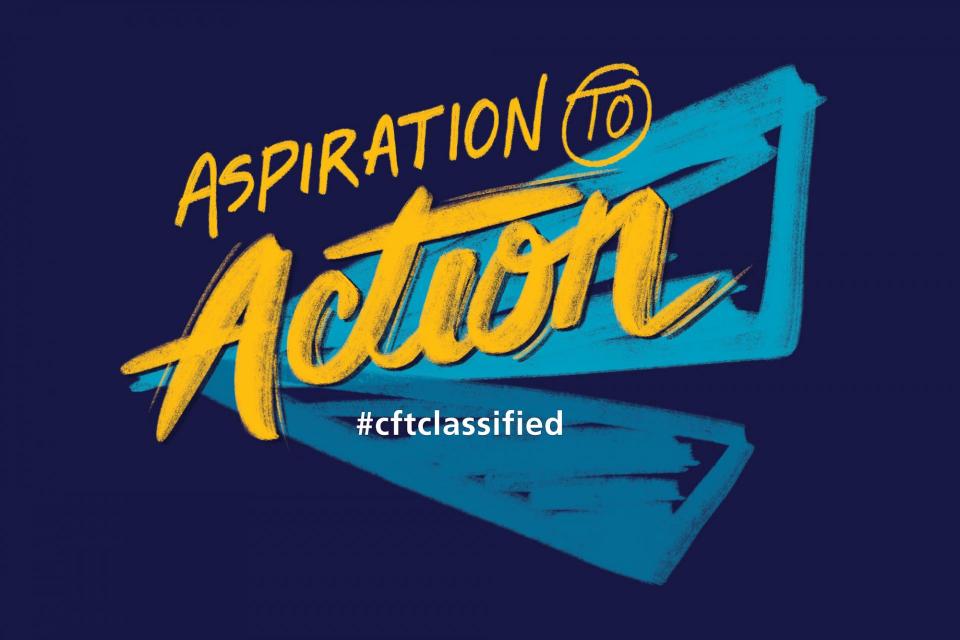 At our Classified Conference, with the theme Aspiration to Action, you can look forward to a typical line-up of in-person events with plenary sessions, meal events, workshops, and social events. This conference is a great opportunity to get know your colleagues around the state, share best practices, and get the knowledge you need to strengthen your union and your workplace.
PRE-EVENT BASICS
The conference will be held at the Sheraton Gateway Los Angeles Hotel just minutes from LAX. (See Getting There for shuttle, driving and parking info)
CFT COVID protocols will be in place and attendees will be required to abide by them. You will be required to test when you arrive. Testing takes 15 minutes to complete, so please plan to arrive early as the meetings will start on time. Masks must be worn except when eating and drinking. (See COVID Protocols)
You can pay conference fees online. (See Pay Registration Fees)
BONUS Zoom screen: Use our conference logo in your zoom meetings!
Schedule At-A-Glance
FRIDAY, OCTOBER 21
12 noon Registration & COVID Testing
2 pm Local Presidents Collaboration
5 pm Meet and Greet
7 pm Dinner on your own
SATURDAY, OCTOBER 22
8 am Breakfast General Session & COVID Testing
10 am Workshops
12 pm Lunch General Session
1:30 pm Workshops
3:15 pm Workshops
5 pm Dinner on your own
8 pm Social Event: Lights, Camera, Action! — A Red Carpet Event
SUNDAY, OCTOBER 23
8 am Breakfast General Session
12 noon Conference ends
Getting There
BY PLANE
If are you flying, the closest airport is LAX.
The Sheraton Gateway is only a few minutes from LAX, but you may experience traffic or construction delays.
There is a hotel shuttle. It leaves from the LAX departures level at the area signed "Hotel and Private Parking Shuttles." Look for a white shuttle van with the Sheraton logo. The shuttle departs every 20-30 minutes.
BY CAR
Day valet parking at the hotel is $25.
Overnight parking is $35 with in-and-out privileges.
Set your driving directions to:
Sheraton Gateway Los Angeles
6101 West Century Blvd
Los Angeles, California 90045
COVID Protocols
The CFT's COVID safety protocols will be in place during all meetings.
Attendees will be required to upload proof of vaccination in advance of the conference. A booster is recommended.
Attendees will receive an email from CFT with upload instructions. If you have already uploaded your vaccination card to CFT, you will not be required to do so again.
Rapid antigen COVID tests will be administered on-site. Please allow an additional 20 minutes upon arrival to the registration area to complete the test.
Masks must be worn at all times unless actively eating or drinking.
Pay Registration Fees
You (or your local union) may pay the registration fee by credit card using the link below or by check.
To pay by check, please send a check (made out to CFT) to 2550 North Hollywood Way, Suite 400, Burbank, CA 91505.
Local Presidents Collaboration
PRE-CONFERENCE EVENT
Whether you are a seasoned president, or brand new, this is an opportunity you won't want to miss. Before the conference opens, local presidents from constituent unions of the Council of Classified Employees are invited to attend a casual seminar to share updates on current issues and get to know one another.
We will share our experiences of the recent pandemic years — successes and challenges alike — as we continue to guide our unions through the pandemic and beyond. The collegial exchange of information can help your union and the Council of Classified Employees formulate plans for the future and better serve our members. CFT leaders will also be joining the roundtable.
The Local Presidents Collaboration will be on Friday from 2 pm to 3:30 pm.
Workshops
AFT Member Benefits for You and Your Local Union
The AFT+ Member Benefits add value to union membership. Whatever your union role, AFT+ benefits give you a reason to reach out and engage with members. This workshop will provide information about the benefits and spark ideas on how your local can use the more than 45 AFT+ programs, many of which offer features, services, and discounts not available to non-members. We'll also discuss two important voluntary local-paid benefits, Accidental Death and Dismemberment and the Occupational Liability Insurance.
Active Violence Emergency Response Training (AVERT)
Please note: This is a three-part training that will continue throughout all three Saturday workshop sessions. The training has a limit of 30 attendees and you must pre-register. Attendees will receive a certificate of completion. You will be asked to register in advance for this training on the conference registration form.
When violence occurs, seconds count, and you can't always wait for emergency services to arrive. AVERT is an active shooter training that also enables you to become an immediate responder by learning emergency stop-the-bleed techniques. AVERT teaches how to:
Recognize warning signs using situational awareness;
Decide whether to escape, evade, or attack;
Apply critical techniques to stop the bleeding;
Respond quickly and confidently in an emergency.
Grievance 101: Tools for Problem Solving in the Workplace
Participants will discuss ways we can solve problems on the job by engaging members in coordinated actions and using the grievance procedure. This workshop introduces participants to basic grievance handling. We will cover the definition of a grievance, how to write an effective grievance, how to process and investigate a grievance, tips for meeting with management, and various other problem-solving scenarios.
Organizing Tools for Worksite Problem Solving
This workshop will focus on how to organize and leverage member power to identify and solve workplace issues. Participants will leave this training with the tools to go back to their local union with an escalating action plan to engage members, build power, and win issues-based campaigns.
Preventing Workplace Violence in Schools
Workplace violence is increasingly recognized as a serious occupational hazard for school and college employees. This workshop will describe the types of violence that workers may encounter and aspects of the work environment that may increase the likelihood for violent incidents to occur. We will also consider strategies to prevent workplace violence in educational settings—and the role that CFT members can play in advocating for stronger prevention policies at the district and state levels.
Putting Your Best Foot Forward – Advancing in Your District Career
Have you applied for a different or advanced job in your district and not gotten it? We often find ourselves competing with and losing positions to outside job applicants after providing years of service to our districts. This workshop will help you renew your confidence, revamp your résumé, and rethink the interview process to help you land the job you want in the district in which you already work.
Research Resources for Contract and Organizing Campaigns
Strategic research is essential to winning a variety of campaigns. This workshop will give you an overview of what strategic research is and show how you can use research to inform tactics and strategy in your local union contract and organizing campaigns. Attendees will also be given a brief overview of free or low-cost research resources.
Registration Has Closed
The deadline to register your attendance with CFT was Friday, October 7 at 5 pm

.

The registration fee is $50 per attendee.

You may pay the registration fee in a separate online transaction.
Room Reservations Have Closed
The deadline to reserve rooms at the CFT conference rate of $149 was Friday, October 7 at 5 pm.
Rooms reserved after October 7 are subject to availability and price fluctuation.
If you have questions, please contact Rebecca Perez.