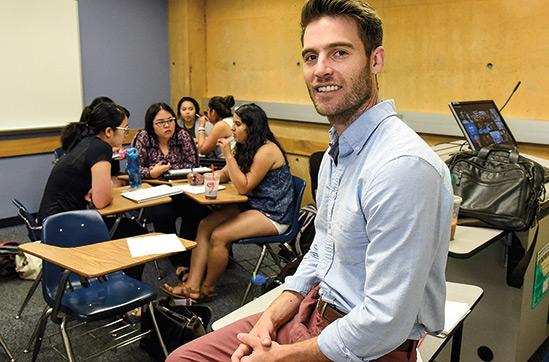 For the first time, instructors in the writing programs on UC campuses met this summer to work out a common program for pursing their mutual interests. Some 469 people teach in the programs statewide.
"We make up the highest membership among all the disciplines in the system," says Jonathan Keeperman, a fourth-year instructor at UC Irvine, and a member of the UC-AFT bargaining team for non-tenured faculty. "We wanted to look at the labor practices from campus to campus, and talk about the best practices in classroom methods and pedagogy."
Santa Barbara writing instructor and UC-AFT President Bob Samuels said, "This is the first time that we've met as a single discipline and compared data among the campuses. We focused on workload issues and how a systemwide contract sometimes has a hard time dealing with local issues."
"How do we come up with terms specific enough to address individual programs, yet flexible enough for a systemwide agreement?"
UC-AFT's primary concern is the way lecturers are routinely mistreated at some schools, and considered disposable labor. "Many don't get to the six-year mark where they might get permanent appointments," explains Samuels. "They're given classes term by term, earn lower salaries, have very little say in program, and have a lot of workload concerns."
Salaries are one area with very clear differences. A report prepared for the meeting compared salaries from campus to campus using several computations — an average salary rate based on full-time employment, an average real salary that lecturers are actually paid, and a cost estimate for basic living expenses that allow a lecturer to survive without additional income.
"The real salary is necessarily lower than the average salary, since nearly half of us are part-time employees," explains Keeperman. "Over half, 272 of 469, are Pre-6, meaning we have yet to reach our sixth year Excellence Review and achieve any stability in our appointments."
Almost all Pre-6 lecturers are on year-to-year contracts. Depending on the campus, there are wild fluctuations in the number of classes lecturers are offered, forcing many lecturers to teach at multiple schools. At Irvine the salary rate for Pre-6 lecturers is $49,852, and the average real salary is just $41,875, the report concluded. Even at the highest paying campus, UCLA, the numbers for Pre-6 are $50,915 and $47,860, respectively. The report, based on data from the 2014-15 academic year, estimates that it takes $56,860 to live in Los Angeles, and the same in Irvine.
Bargaining contract terms in such a variety of circumstances is challenging, Keeperman says. "How do we come up with terms specific enough to address individual programs, yet flexible enough for a systemwide agreement?" he asks. Instructors on both the UCLA and San Diego campuses bemoaned a churning policy that makes it very difficult for teachers to get to the six-year review.
"While San Diego, for instance, had pretexts for not rehiring instructors, the administration doesn't have to give cause for denying employment within the first six years," explains Keeperman. "In this case we agreed on a side letter requiring the investigation of certain departments." In general, instructors do better when the writing programs are independent and governed at least in part by lecturers, rather than being housed in another department.
In the last round of bargaining, UC-AFT had hoped to reduce the number of years needed to reach a review and permanent appointment, but had to focus on more urgent concerns. Keeperman adds, "We were able to get a mandatory review at three years, which requires the university to pay attention, and gives instructors some guidance on how to improve." The lecturers also negotiated a base rate pay increase of 11.2 percent over the next four years.
Some campuses have made substantial improvements for writing program lecturers. Large ones like UCLA and Berkeley have more money and resources. At Davis instructors won a legal battle to gain a larger voice in working conditions and program operation.
"Battles have already been won on some campuses," Keeperman concludes, "and we need to draw on their experience. We need to learn how to go about campaigning, recruiting allies and making things better."
— By David Bacon, CFT Reporter