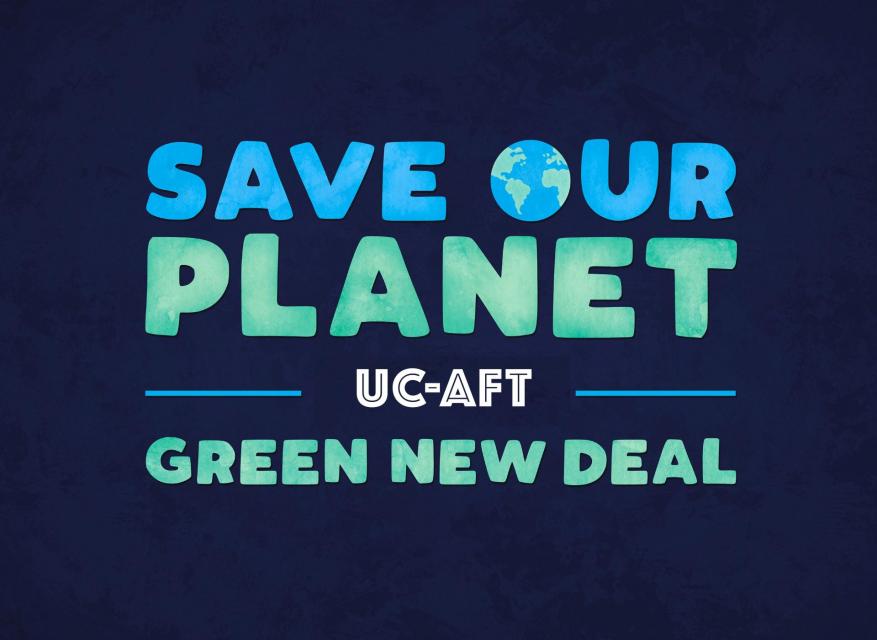 UC-AFT has formed a climate action Green New Deal Committee, with 12 founding members who teach at six UC campuses. The committee will develop UC-AFT positions on climate and environmental issues within the university and on state and national policy.
The inaugural chair of the committee, Alison Lipman, is an ecology lecturer from UCLA and member of the UC-AFT faculty bargaining team. The committee will inform university sustainability plans, such as these comments on UCLA's Sustainability Plan, and participate in and help lead Green New Deal and climate coalition work on UC campuses and in UC communities.
Committee members are involved in a variety of environmental and climate groups and actions across the university and will work as UC-AFT leaders to help disseminate this work across more campuses. For example, committee members have participated in local campus climate action groups and Sustainability Councils, promoted the UC Green New Deal petition and other UC Regent actions, fought for transit equity at UC Berkeley, worked to protect open space at UC Irvine, helped to inform the UCLA Master Landscape Plan, and are planning to collaborate on the Healthy Streets LA ballot measure.
As a first step for involvement in statewide coalitions, on February 15, Lipman represented UC-AFT on a Cross Union Panel, hosted by the UC Green New Deal Coalition, and featuring representatives from multiple unions representing workers at the University of California.
At this meeting discussion focused on the need for Green New Deal and climate action groups to forge close collaborations with labor unions in order to promote our shared goals of environmental protection and social justice. The committee has near-term plans to join the UC GND Coalition, as well as California-wide coalitions like the California GND Coalition and California Labor for Climate Jobs.
The UC-AFT committee has a number of future goals, including plans to survey members as to their environmental priorities, inform and improve the UC-wide Green New Deal platform, and help lead Earth Day climate rallies on all UC campuses. The committee also plans to conduct a sustainability evaluation of UC-AFT's current operations in order to make recommendations to lower the union's environmental and carbon footprints.
The UC-AFT Green New Deal Committee is seeking more members, especially from unrepresented campuses. Please contact Alison Lipman if you are interested. The committee will conduct its first meeting in early March.