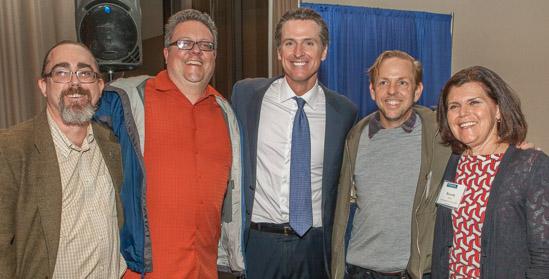 Members of the Novato Federation of Teachers with Gavin Newsom at the 2016 CFT Leadership Conference.
Members heavily favor lieutenant governor in straw poll, opinion poll
2018 is shaping up to be a critical election for our nation and our state. With Gov. Jerry Brown being termed out, one of the most important elections for CFT members will be the race for governor.
After soliciting member feedback for almost two months, the CFT Executive Council on December 2 endorsed Gavin Newsom for the state's top office.
Newsom has an impressive track record of public service as the current lieutenant governor of California and the former mayor of San Francisco. During an interview with the Executive Council, he presented a clear progressive vision for our state anchored by fully funded and supported public schools. He articulated a willingness to continue local control, hold charter schools accountable, and identify further sources of stable revenue to fund public education and vital social services.
Newsom also demonstrated a deep knowledge of the issues facing public sector labor unions in the Janus v. AFSCME Supreme Court case and pledged to defend California's position as a progressive leader on issues like immigration, LGBTQ rights, and the environment.
The CFT took many steps to ensure a fair and transparent endorsement process and to invite member input leading up to this critical endorsement. The union garnered the opinions of rank-and-file CFT members both through an eight-week straw poll that was posted on the CFT website and across social media, and through a scientific member poll conducted by EMC Research.
Also on December 2, the Executive Council held rigorous interviews with the top Democratic candidates after reading their responses to an extensive questionnaire.
In making the endorsement, the CFT Executive Council drew upon the substantial support for Newsom found in the straw poll: Newsom received support from 48 percent of respondents, followed by John Chiang at 22 percent, Delaine Eastin at 12 percent, and Antonio Villaraigosa at 6 percent. The results of the recent opinion poll mirror those of the straw poll.
"After our extensive outreach, we felt confident that Newsom was the candidate most favored by our members," said CFT President Josh Pechthalt. "He's also the candidate most aligned with CFT values on public education, labor rights, and our progressive vision."
In another race important to educators, the CFT Executive Council in June endorsed Richmond Assemblymember Tony Thurmond for superintendent of public instruction. Pechthalt said Thurmond has demonstrated "time and again he is a champion of public education. His policy positions solidly align him with the needs of students, parents, and educators."
In addition to the governor's race, the CFT has made several endorsements for other statewide elected offices based on the candidates' strong support for public education and workers' rights.
CFT ENDORSEMENTS FOR 2018
Governor Gavin Newsom
Lieutenant Governor Ed Hernandez and Eleni Kounalakis (Dual)
Superintendent of Public Instruction Tony Thurmond
Attorney General Dave Jones
Secretary of State Alex Padilla*
Treasurer Fiona Ma
Controller Betty Yee*
Insurance Commissioner Ricardo Lara
Board of Equalization District 2 Malia Cohen
* Incumbent